[vc_row inner_container=»true» bg_color=»#ffffff» style=»margin-bottom:0px; padding-bottom:0px;»][vc_column alignment=»left» width=»1/2″]
Valck
[/vc_column][vc_column width=»1/2″]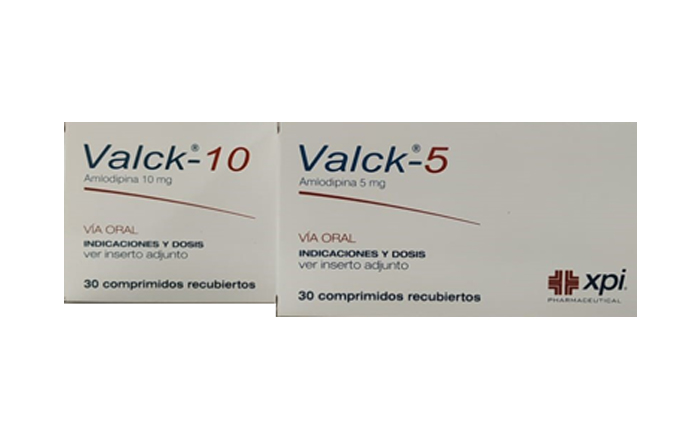 [/vc_column][/vc_row][vc_row inner_container=»true» bg_color=»#ffffff» style=»margin-top:0px; margin-bottom:0px;»][vc_column width=»1/1″]
Description
Valck is an antihypertensive – antianginal that contains Amlodipine, a calcium antagonist belonging to the group of dihydropyridines. Amlodipine works by inhibiting the transmembrane flow of calcium ions into the cardiac and vascular smooth muscles. The antihypertensive action of it is due to a direct relaxing effect on the smooth vascular musculature. The mechanism by which Amlodipine relieves angina has not been fully determined; but it has been shown that it reduces the total ischemic load through two actions: – Dilation of the peripheral arterioles, thus reducing total peripheral resistance (afterload, against which the heart works), resulting in a reduction in energy consumption myocardial and oxygen requirement. – Dilation of the main coronary arteries, as well as the coronary arterioles, both in normal and ischemic regions. This dilation increases the oxygen supply to the myocardium in patients with coronary artery spasm (variant or Prinzmetal angina) and attenuates tobacco-induced coronary vasoconstriction.
Pharmacokinetics and pharmacodynamics
Amlodipine is well absorbed after oral administration, reaching maximum blood concentrations at 6-12 hours after ingestion, and it is not modified by food, its absolute bioavailability is 64-80% and plasma half-life Elimination time is 35-50 hours. The volume of distribution is approximately 21 l / kg and stable plasma concentrations are reached 7-8 days after continued administration. Amlodipine is extensively metabolized in the liver to inactive metabolites, with up to 10% of the drug unchanged and 60% of the metabolites being excreted in the urine. 97.5% of circulating Amlodipine is bound to plasma proteins.
Indications
– High blood pressure: Valck is indicated as a first-line drug for high blood pressure and can be used as the only agent to control it in most patients. For those patients who do not achieve adequate control with monotherapy, Valck can be combined with thiazide diuretics, beta-adrenergic blocking agents, ACE inhibitors and BRA II.
– Coronary artery disease: Valck is indicated to reduce the risk of hospitalization for angina and to reduce the risk of coronary revascularization procedures.
– Stable angina and vasospastic angina: Valck is indicated as the first-line treatment in myocardial ischemia, either due to fixed obstruction or vasospasm of the coronary vasculature. Valck can be used as monotherapy or in combination with other antianginal drugs in patients with angina who are refractory to nitrates and / or adequate doses of beta-blockers.
[/vc_column][/vc_row][vc_row inner_container=»true» bg_color=»#ffffff» style=»margin-top:0px; margin-bottom:0px;»][vc_column width=»1/2″]
---
Contraindications
Hypersensitivity to dihydropyridines or to the excipients of the product. Valck is relatively contraindicated in patients with advanced aortic stenosis, as it can worsen the abnormal pressure gradient associated with this condition.
Cautions
Valck should be used with caution in patients with severe bradycardia or heart failure due to the possibility of cardiogenic shock. Patients with left ventricular dysfunction receiving Valck for angina treatment should be closely monitored and its use in patients with NYHA class IV heart failure should be avoided. Valck should not be administered to patients with SBP <90 mm Hg.
Pregnancy and lactation: There are no controlled human studies; therefore Valck will only be administered to pregnant women if the benefits clearly outweigh the potential risks. It is unknown if the drug is excreted in human milk, therefore its use during lactation should be avoided.
Side effects
Amlodipine is generally well tolerated in doses up to 10 mg. Adverse reactions are usually mild to moderate and almost always related to peripheral vasodilatory effects: migraine, edema, weakness, dizziness, hot flashes, palpitations. Amlodipine is well tolerated in children, adverse events are similar to those seen in adults. The most frequent are: headache, dizziness, asthenia, abdominal pain and epistaxis.
Drug interactions
Amlodipine can be safely administered with thiazide diuretics, beta-blockers, ACE inhibitors, long-acting nitrates, sublingual nitroglycerin, NSAIDs, antibiotics, and oral hypoglycemic drugs. Concomitant administration of Amlodipine with cimetidine, atorvastatin, digoxin, warfarin or cyclosporine has no significant effect on their pharmacokinetics and pharmacodynamics. Diltiazem inhibits Amlodipine metabolism, probably via CYP3A4 (the plasma concentration increases by approximately 50% and the effect of Amlodipine is increased). The possibility that more potent CYP3A4 inhibitors (eg Ketoconazole, itraconazole, ritonavir) may increase the plasma concentration of Amlodipine to a greater extent than diltiazem cannot be excluded. CYP3A4 inducers (carbamazepine, phenobarbital, phenytoin, phosphenytoin, premidone, and rifampin) can generate reduced plasma levels of Amlodipine if used together.
Warning
Keep out of the reach of children. Sale under prescription.
[/vc_column][vc_column width=»1/2″ style=»background-color:#f4f4f4; height:100%; padding-left:10px; padding-right:10px;»]
Composition
Valck-5
Each coated tablet contains:
Amlodipine besilate (equivalent to 5 mg Amlodipine)
C.S. excipients
Valck-10
Each coated tablet contains:
Amlodipine besilate (equivalent to 10 mg Amlodipine)
C.S. excipients
---
Posology and administration 
Oral
The initial Valck dose is 5 mg once daily for both high blood pressure and angina. The dose can be increased to a maximum of 10 mg depending on the patient's individual response. The recommended dose for patients with Coronary Artery Disease is 5-10 mg once a day. Elderly: normal dosage regimens are recommended. Use in children: The effective antihypertensive oral dose in pediatric patients aged 6-17 years is 2.5 mg to 5 mg once a day. Renal impairment: Valck can be used at normal doses in patients with this condition. Impaired liver function: safe dosages for patients with this condition have not been established, since the half-life of Amlodipine (like that of all calcium antagonists) is increased in them. Consequently, in these patients the doses should be adjusted according to the response, starting treatment with lower doses than in normal adults.
---
Presentation
Valck – 5: Box containing 30 coated tablets.
Valck – 10: Box containing 30 coated tablets.
---
Storage Recommendations
Store below 30 °C. Protect from light and moisture.
[/vc_column][/vc_row]