[vc_row inner_container=»true» bg_color=»#ffffff» style=»margin-bottom:0px; padding-bottom:0px;»][vc_column alignment=»left» width=»1/2″]
Sedaspam 40
[/vc_column][vc_column width=»1/2″]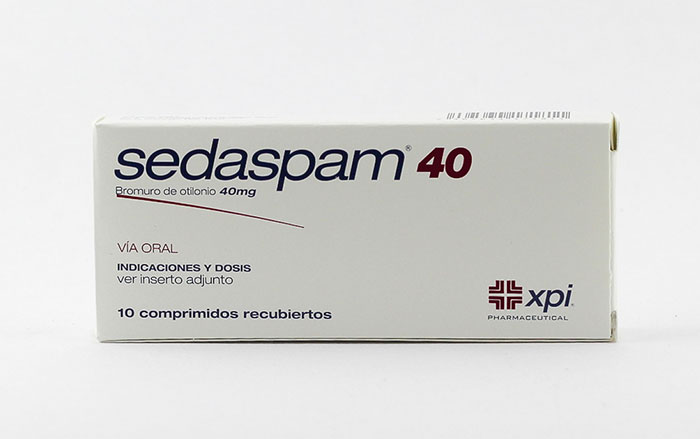 [/vc_column][/vc_row][vc_row inner_container=»true» bg_color=»#ffffff» style=»margin-top:0px; margin-bottom:0px;»][vc_column width=»1/1″]
Properties
Sedaspam is a musculotropic, based on Otilonium Bromide ; which acts directly on the intestinal muscular contraction. it remove the spasm, making the pain disappear and restoring the normal functioning of the digestive tract. Sedaspam selectively inhibits the calcium channels of the smooth muscles of the digestive tract, reduces hypermobility without altering physiological peristalsis. Because its absorption is very poor (3-5%), no side effects are observed.
Pharmacologically, Otilonium Bromide, bromide salt of a quaternary amine, is a selective antispasmodic muscle relaxant, without the side effects of anticholinergic drugs, nor the systemic effects of calcium agonists.
Mechanism of action
It blocks the entry of calcium into the cell.

Inhibits spontaneous intestinal contraction.

Inhibits the stimulating action of acetylcholine, serotonin, histamine and nicotine.

It blocks the release of Ca in the crypts of the colon.
Indications
Irritable bowel syndrome, diverticulosis. Coadjuvant treatment in Crohn's disease and ulcerative colitis.

Coadjuvant spasmolytic in digestive endoscopy.

Pain caused by menstruation (dysmenorrhea).

Gastrointestinal, ureter, urethra, kidney and bile duct spasms.
[/vc_column][/vc_row][vc_row inner_container=»true» bg_color=»#ffffff» style=»margin-top:0px; margin-bottom:0px;»][vc_column width=»1/2″]
---
Contraindications
Hypersensitivity to the active substance, intestinal obstruction and paralytic ileus.
Side effects
At the usual dose Sedaspam 40 is generally well tolerated. Eventually it may cause mild fatigue, nausea, or heartburn in sensitive patients.
Interactions
There may be interaction with anticholinergics, antidepressants, and prokinetics (metoclopramide, cisapride, among others).
Cautions
Sedaspam 40 is advised with caution in cases of glaucoma and in elderly patients.
Precautions and restrictions on use during pregnancy and lactation
The effects of otilonium bromide on human reproduction are unknown. There have also been no animal studies. Consequently, its administration to pregnant women is not recommended. It is not known whether otilonium bromide is excreted in human milk, although to do so, given its small concentrations in maternal plasma, the concentrations in milk should be minimal. In any case, until more information is available, it is recommended not to use it during lactation.
Warnings
Sale by prescription. Keep out of reach of children.
[/vc_column][vc_column width=»1/2″ style=»background-color:#f4f4f4; height:100%; padding-left:10px; padding-right:10px;»]
Composition
Each coated tablet contains:
Otilonium Bromide    40 mg
C.S.P. excipients
---
Posology and administration
Orally:
Adults: the usual dose is 1 40mg coated tablet, two to three times a day, according to medical indications. The tablets should be taken approximately 20 minutes before meals, with half a glass of water. The maximum duration of treatment is 4 weeks. In case of reappearance of painful symptoms, the doctor should evaluate the advisability of establishing a new treatment.
As an adjunctive spasmolytic in digestive endoscopy:
Adults: Doses of 1 coated tablet (40 mg) have been administered the night before and one coated tablet (40 mg) the morning of the procedure.
---
Presentation
Box containing 1 blister with 10 coated tablets of 40 mg each.
---
Storage Recommendations
Store below 30 °C. Protect from moisture.
[/vc_column][/vc_row]