[vc_row inner_container=»true» bg_color=»#ffffff» style=»margin-bottom:0px; padding-bottom:0px;»][vc_column alignment=»left» width=»1/2″]
Noragel
[/vc_column][vc_column width=»1/2″]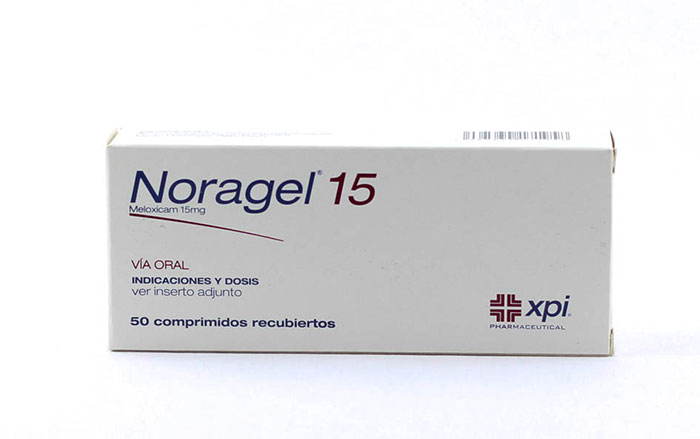 [/vc_column][/vc_row][vc_row inner_container=»true» bg_color=»#ffffff» style=»margin-top:0px; margin-bottom:0px;»][vc_column width=»1/1″]
Properties
Noragel contains meloxicam, a non-steroidal anti-inflammatory drug (Aine) from the group of oxicames, which exerts anti-inflammatory and analgesic actions.
Noragel exerts frank anti-inflammatory activity in all experimental models of inflammation. As in other NSAIDs, its mechanism of action is multifactorial in nature. There is a common mechanism of action for the aforementioned effects, in terms of the ability to inhibit the synthesis of prostaglandins, known mediators of inflammation.
Therapeutic indications
Noragel is indicated for the treatment of acute and chronic rheumatoid arthritis, osteoarthritis (degenerative joint disease), periarthritis of the shoulder and hip, as well as muscle strains and gout attacks. Noragel is useful for treating inflammation and pain secondary to trauma; as well as inflammatory processes of soft tissues (airways), gynecological disorders, primary and post operative dysmenorrhea.
[/vc_column][/vc_row][vc_row inner_container=»true» bg_color=»#ffffff» style=»margin-top:0px; margin-bottom:0px;»][vc_column width=»1/2″]
---
Contraindications
There is a risk of cross sensitivity with acetylsalicylic acid and other non-steroidal anti-inflammatories, therefore, Noragel should not be used in patients where the previous administration of these drugs has given rise to manifestations of asthma, angioedema or urticaria. Its use is not recommended during pregnancy or lactation, as well as in cases of active peptic ulcer, liver failure, severe kidney failure.
Side effects
Noragel tolerance is good in most patients, and dyspepsia, nausea, vomiting, epigastric pain, constipation, flatulence, and diarrhea may occasionally occur. At the cutaneous level: pruritus, rash, hives, hypersensitivity reactions. In addition headaches, palpitations, edema, vertigo, dizziness, drowsiness.
Drug interactions
Associations not recommended or requiring special attention:
Other Aines, including high-dose salicylates, oral and parenteral anticoagulants, lithium, and methotrexate.
Associations to consider: Antihypertensive drugs (beta-blockers, and some ACE inhibitors).
It can be administered concomitantly with antacids, cimetidine, digoxin and furosemide. Cholestyramine binds to meloxicam in the gastrointestinal tract, resulting in faster elimination of it.
Cautions
As with other NSAIDs, special caution should be used when treating patients with a history of acid peptic disease, and patients who are under treatment with anticoagulants. If peptic ulceration or gastrointestinal bleeding occurs, the drug should be discontinued. Likewise, if the patient reports adverse skin effects, special attention should be paid to this event and the medication should be discontinued.
Noragel Suppositories should not be used in patients who have an inflammatory lesion in the rectum or anus or who have a recent history of rectal or anal bleeding.
Elderly patients, or those with congestive heart failure, liver cirrhosis, nephrotic syndrome and previous kidney disease, as well as those undergoing major surgical procedures, and who are at risk of hypovolemia, are more sensitive to inhibition of the synthesis of Renal prostaglandins, which are necessary for adequate renal perfusion, so that in these patients urinary volume and renal function should be monitored from the start of treatment.
Warnings
Your purchase requires a medical prescription. Keep out of reach of children. This medicine should not be administered during pregnancy, lactation, or in children under 15 years.
[/vc_column][vc_column width=»1/2″ style=»background-color:#f4f4f4; height:100%; padding-left:10px; padding-right:10px;»]
Composition
Noragel 15-tablets
Each coated tablet contains:
Meloxicam     15 mg
C.S.P. excipients    1 tablet.
Noragel 7.5 Suppositories
Each suppository contains:
Meloxicam     7.5 mg 
C.S. excipients     1 sup
Noragel 15 Suppositories
Each suppository contains:
Meloxicam     15 mg
C.S. excipients   1 sup
---
Posology and administration 
Noragel 15  Tablets is administered orally depending on the nature and intensity of the process, in doses of 7.5 mg (1 or 2 tablets) in a single dose per day. The maximum recommended dose is 15 mg daily.
Noragel Suppositories is administered rectally, a 7.5 mg or 15 mg suppository every 24 hours, depending on the severity of the condition to be treated. Rectal administration should be used for the shortest possible time due to the risk of oral toxicity. The maximum recommended dose is 15 mg daily.
In patients with end-stage renal failure the dose should not exceed 7.5 mg daily. No reduction in this dose is necessary in patients with moderate renal impairment (with creatinine clearance greater than 25 ml / min.) Or in patients with clinically stable liver cirrhosis.
---
Presentation
Noragel 15-Tablets: Box containing one blister for 10 coated tablets each.
Noragel 15-Tablets: Box containing 25 blisters x 2 coated tablets each.
Noragel 7.5 Suppositories: Box containing 5 suppositories of 7.5 mg each.
Noragel 15 Suppositories: Box containing 5 suppositories of 15 mg each.
---
Storage Recommendations
Store below 30 °C.
Protect  from light and moisture.
[/vc_column][/vc_row]