[vc_row inner_container=»true» bg_color=»#ffffff» style=»margin-bottom:0px; padding-bottom:0px;»][vc_column alignment=»left» width=»1/2″]
Lorax Beta
[/vc_column][vc_column width=»1/2″]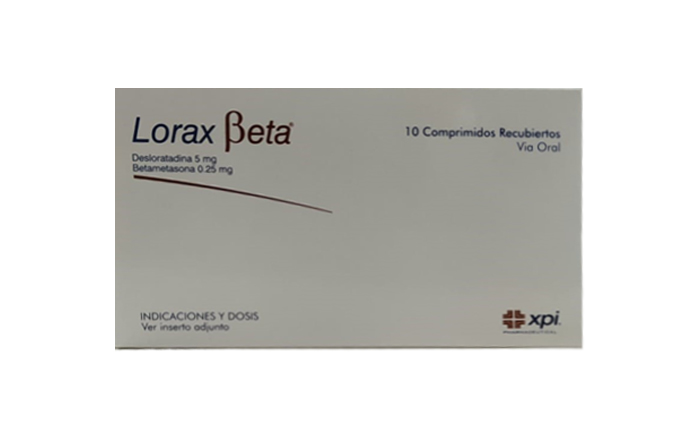 [/vc_column][/vc_row][vc_row inner_container=»true» bg_color=»#ffffff» style=»margin-top:0px; margin-bottom:0px;»][vc_column width=»1/1″]
Properties
Lorax – Beta combines the anti-inflammatory and antiallergic effect of Betamethasone, with the non-sedating antihistamine activity of Desloratadine.
Desloratadine is a potent, long-acting, non-sedating tricyclic antihistamine with selective antagonistic activity of peripheral H1 receptors.
Desloratadine has shown antiallergic, antihistamine and anti-inflammatory activity.
Betamethasone is a moderately potent steroid from the glucocorticoid group that is used for its anti-inflammatory and anti-allergy properties.
Indications
Lorax – Beta is indicated in severe allergic states that require treatment with the association of an antihistamine and a systemic corticosteroid. Lorax – Beta is indicated for the rapid relief of symptoms associated with seasonal or perennial allergic rhinitis, including: sneezing, runny nose, itchy nose, nasal congestion, as well as tearing and eye redness, it is also indicated for the relief of symptoms. associated with chronic idiopathic urticaria, including relief from itching and reduction in the number and size of hives, in atopic dermatitis, contact dermatitis, angioedema, food and drug allergic reactions, and allergic-type ocular manifestations, such as conjunctivitis allergic.
[/vc_column][/vc_row][vc_row inner_container=»true» bg_color=»#ffffff» style=»margin-top:0px; margin-bottom:0px;»][vc_column width=»1/2″]
---
Contraindications
Lorax Beta is contraindicated in patients with recognized hypersensitivity to any of its components and to other corticosteroids, systemic fungal infections and active tuberculosis.
Side effects
At the recommended doses Lorax Beta does not have clinically significant sedative properties. The most commonly reported side effects with Desloratadine include: Pharyngitis, headache, dry mouth, drowsiness, fatigue, flu-like symptoms, myalgia, nausea, vertigo, dry throat and dyspepsia. More rarely have been reported: Tachycardia, hypersensitivity reactions (rash, pruritus, urticaria, edema, dyspnea and anaphylaxis) and elevation of liver enzymes and bilirubin.
Adverse reactions to betamethasone are similar to those of corticosteroids and are related to dosage and duration of treatment. Usually, they can be reversed or minimized by decreasing the dose, which is generally preferable to stopping treatment.
Drug interactions
No clinically relevant interactions were detected in studies in which Desloratadine was administered concomitantly with erythromycin, ketoconazole, azithromycin, fluoxetine, or cimetidine despite an increase in plasma concentrations of Desloratadine and 3-hydroxydesloratadine. Nor were any clinically relevant changes detected in the safety profile of Desloratadine evaluated using electrocardiographic parameters, including the QT interval corrected for heart rate (QTc), laboratory analysis, vital signs, and recording of adverse events. Concomitant administration of Desloratadine and alcohol has been reported to not potentiate alcohol-induced disorders.
The concurrent use of phenobarbital, phenytoin, rifampin or ephedrine can increase the metabolism of corticosteroids, decreasing their therapeutic action. The simultaneous administration of corticosteroids with diuretics that produce potassium depletion, can accentuate hypokalemia. Concomitant use of cardiac glycosides may increase the possibility of arrhythmia or digitalis toxicity associated with hypokalemia. Serum electrolyte levels, particularly potassium levels, should be carefully monitored in these patients.
When administered with coumarin anticoagulants it may increase or decrease the anticoagulant effects, possibly requiring a dose adjustment. When administered to diabetic patients, an adjustment of the hypoglycaemic dosage may be required.
The combined effects of non-steroidal anti-inflammatory drugs or alcohol with glucocorticoids may lead to an increased incidence or severity of gastrointestinal ulcers.
In cases of hypothrombinemia the combination of acetylsalicylic acid with corticosteroids should be used with caution.
Cautions
To prevent adrenal suppression syndrome when corticosteroid treatment is discontinued, cessation should be done slowly, with the dose gradually decreased over several days.
Corticosteroids should be used with caution in patients with ocular herpes simplex due to the possibility of corneal perforation. Great care is recommended in cases of chronic ulcerative colitis, abscesses or other pyogenic infections, diverticulitis, active peptic ulcer, kidney failure, hypertension, osteoporosis, and myasthenia gravis. During corticosterapy, patients should not be vaccinated against smallpox or any other immunization procedure. Prescribing corticosteroids to patients with latent or tuberculin-reactive tuberculosis requires close monitoring since reactivity of the disease may occur.
Warnings
Keep out of the reach of children.
Sale under prescription.
[/vc_column][vc_column width=»1/2″ style=»background-color:#f4f4f4; height:100%; padding-left:10px; padding-right:10px;»]
Composition
Lorax Beta tablets
Each coated tablet contains:
Desloratadine    5.0 mg
Betamethasone    0.25 mg
C.S.P. excipients
Lorax Beta syrup
Each 5ml of syrup contains:
Desloratadine     2.5 mg
Betamethasone    0.25 mg 
C.S.P. excipients
---
Posology and  administration
Orally.
Children from 6 to 11 years old: 2.5 ml of syrup once a day.
Adults and children 12 years and older: 1 tablet or 5 ml of syrup once a day.
The dose can be modified by the doctor according to the needs of each patient. Treatment should be continued until an adequate response is observed.
In adult patients with renal or hepatic impairment, it is recommended to start treatment with half the recommended starting dose, until establishing the degree of therapeutic response. When an adequate therapeutic response is obtained (suppression of allergic symptoms), gradual suspension of treatment is recommended, and the administration of an antihistamine should be considered as the only drug, if necessary. Treatment should also be discontinued gradually if a period of spontaneous remission occurs during the course of a chronic condition. If Lorax Beta is to be discontinued after prolonged treatment, the dose should be gradually reduced.
---
Presentation
Lorax Beta tablets: Box containing 1 blister with 10 coated tablets.
Lorax Beta syrup: Box containing a bottle with 60 ml of syrup.
---
Storage Recommendations
Store below 30 °C.
[/vc_column][/vc_row]