[vc_row inner_container=»true» bg_color=»#ffffff» style=»margin-bottom:0px; padding-bottom:0px;»][vc_column alignment=»left» width=»1/2″]
Ecadol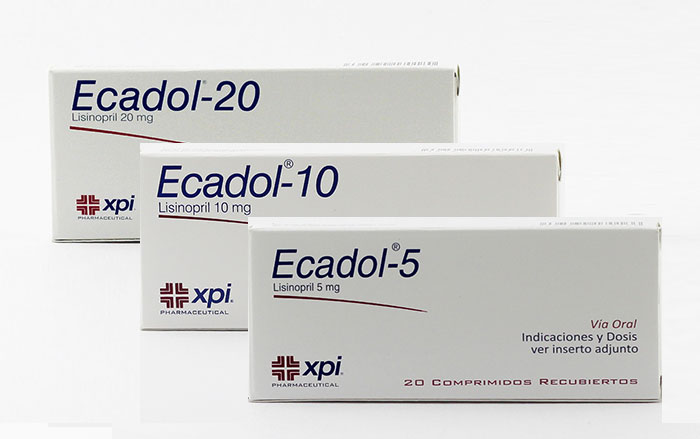 [/vc_column][vc_column width=»1/2″]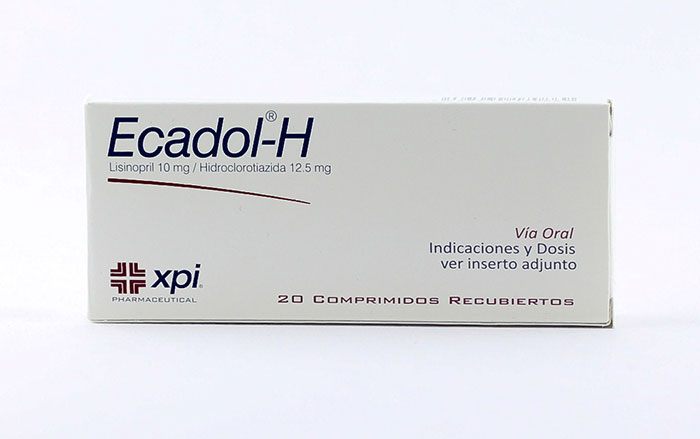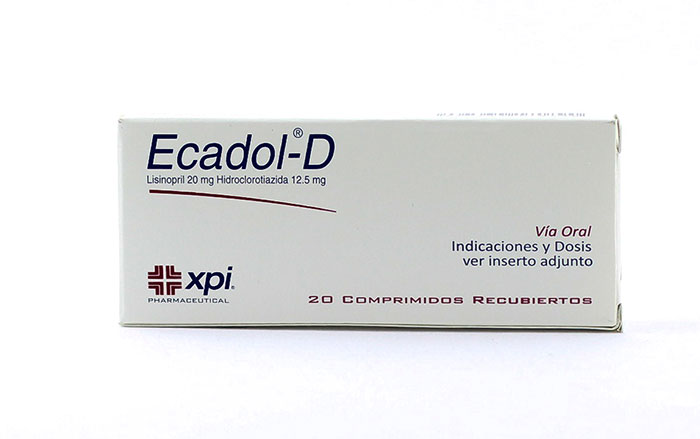 [/vc_column][/vc_row][vc_row inner_container=»true» bg_color=»#ffffff» style=»margin-top:0px; margin-bottom:0px;»][vc_column width=»1/1″]
Indications
Ecadol-5, Ecadol-10 and Ecadol-20 are indicated in: Essential hypertension, Renovascular hypertension, Congestive heart failure and Ischemic heart disease. Ecadol-H and Ecadol-D, a combination of Lisinopril plus hydrochlorothiazide, are indicated for the treatment of essential hypertension, in patients where combination therapy is appropriate. Concomitant administration of Lisinopril and hydrochlorothiazide has little or no effect on the bioavailability of each drug.
Pharmacological properties
Pharmacodynamics:
Ecadol contains Lisinopril, an angiotensin-converting enzyme (ACE) inhibitor in humans and animals, without a long-acting sulfhydryl radical, which acts directly on ACE, without the need to be biotransformed. A dose of 5 to 10 mg produces maximum inhibition of ACE, which at 24 hours is still approximately 75%, thereby reducing plasma levels of angiotensin II, increasing renin activity and angiotensin I and decreases plasma aldosterone. By inhibiting ACE, Lisinopril produces: arteriolar dilation, decreased systolic and diastolic blood pressure, without producing reflex tachycardia. It also produces a decrease in venous return and final ventricular diastolic pressure (pre-load) by increasing venous capacity due to dilation, is associated with a decrease in blood pressure (post-load), improves indices of left ventricular function and cardiac output in patients with heart failure.
Ecadol-H and Ecadol-D, which is Lisinopril plus Hydrochlorothiazide, have anti-hypertensive and diuretic activity. They have been used both alone and in combination, for hypertension treatments, their effects being practically additive. Lisinopril inhibits the angiotensin-converting enzyme (ACE); therefore the formation of angiotensin II, resulting in the production of vasodilation and lowering of blood pressure. Hydrochlorothiazide is a diuretic and antihypertensive agent. The use of this medicine by itself produces an increase in the secretion of renin. Although Lisinopril alone is antihypertensive, even in patients with hypertension and low renin levels, concomitant administration of hydrochlorothiazide results in further reduction in blood pressure. Lisinopril attenuates the loss of potassium that is associated with hydrochlorothiazide.
Pharmacokinetics:
Following oral administration of Lisinopril, peak serum concentrations occur within the next 7 hours. Lisinopril has an effective accumulation half-life of 12.6 hours at multiple doses. The decrease in serum concentrations shows a prolonged terminal phase that does not contribute to the accumulation of the drug. Lisinopril does not appear bound to other serum proteins.
Renal insufficiency decreases the elimination of Lisinopril, which is excreted via the kidneys, but this decrease is clinically only when the filtration rate is less than 30 ml/min.
Hydrochlorothiazide:
When plasma levels have been followed for 24 hours, the plasma half-life varies between 5.6 and 14.8 hours. Finally 61% of the dose is eliminated without changes within 24 hours. After oral administration of hydrochlorothiazide, diuresis begins at 2 hours, reaches its maximum in 4 hours and remains from 6 to 12 hours.
Contraindications
Ecadol is contraindicated in pregnancy, as Lisinopril crosses the human placental barrier. It is not known whether limited exposure during the first trimester can adversely affect the development of the fetus. There is information on complications including hypotension, kidney failure and oligohydramnios, when Lisinopril is used during the second and third trimesters of pregnancy. If Lisinopril is used during pregnancy, the patient should be warned of the potential risks to the fetus. In those rare cases where its use during pregnancy has been considered essential, ultrasonic examinations should be performed periodically to analyze the intra-amniotic environment. If oligohydramnios is detected, it may not appear until the fetus has irreversible damage.
Lisinopril is contraindicated in pregnancy, as well as in patients with a history of angioneurotic edema in relation to previous treatment with an ACE inhibitor. Ecadol is contraindicated in patients with anuria and in patients hypersensitive to other drugs derived from sulfonamide.
[/vc_column][/vc_row][vc_row inner_container=»true» bg_color=»#ffffff» style=»margin-top:0px; margin-bottom:0px;»][vc_column width=»1/2″]
---
Drug and other interactions
In patients undergoing major surgery or during anesthesia with agents that produce hypotension, Lisinopril may block angiotensin II formation, secondary to compensatory release of renin. Thiazide therapy may affect glucose tolerance. It may be necessary to adjust the dose of antidiabetic agents including insulin.
Do not use lithium with ACE inhibitors, as they reduce renal clearance of lithium and add a high risk of lithium toxicity. Indomethacin may decrease the antihypertensive efficacy of Lisinopril when administered concomitantly.
Cautions
Hypotension: Special consideration should be given when administering treatment to patients with non-cerebrovascular ischemic heart disease, since excessive lowering of blood pressure may result in myocardial infarction or stroke.
Impaired Renal Function: Thiazides may not be appropriate diuretics for use in patients with impaired renal function and are ineffective with creatinine clearance below or below 30ml / min (moderate or severe renal impairment). Ecadol should not be used as initial therapy in any patient suffering from kidney failure.
Liver disease: Caution should be exercised when using thiazides in patients with progressive deterioration of liver function, since minor alterations in the electrolyte balance precipitate hepatic coma.
Hypersensitivity / Angioneurotic Edema: In patients with a history of angioneurotic edema unrelated to angiotensin-converting enzyme inhibitors, there may be an increased risk of angioneurotic edema while taking an ACE inhibitor. Sensitivity reactions with or without a history of allergy or bronchial asthma may occur in patients receiving thiazides. Cases of exacerbation or activation of systemic lupus erythematous have been reported with the use of thiazides.
Use in older age: The efficacy and tolerance of Lisinopril and hydrochlorothiazide, administered concomitantly, were shown in clinical studies to be similar in both elderly and younger hypertensive patients.
Lisinopril at a dose of 20 to 80 mg per day was equally effective in elderly people (65 years or older) as in younger hypertensive patients. In clinical studies it was shown that age does not affect the tolerance of Lisinopril.
Lactating women: It is not known whether Lisinopril is excreted in human milk; however, Thiazides appear in human milk. Due to the potential for serious reactions due to hydrochlorothiazide in young children, a decision must be made whether to discontinue breast-feeding or to discontinue treatment taking into account the importance of medication by the mother.
Side effects
The unwanted effects are generally slight and temporary, and most of the time it is not necessary to interrupt the treatment. The observed side effects are limited to those previously reported with Lisinopril and hydroclothiazide, with the most common effect being dizziness. Other less common side effects are: headache, dry cough, fatigue, and hypotension, including orthostatic hypotension, diarrhea, nausea, vomiting, dry tongue, rash, gout, palpitations, chest discomfort, muscle cramps and weakness, paresthesia, asthenia, and impotence.
[/vc_column][vc_column width=»1/2″ style=»background-color:#f4f4f4; height:100%; padding-left:10px; padding-right:10px;»]
Composition
Ecadol 5 
Each coated tablet contains:
Lisinopril dihydrate equivalent to 5mg of lisinopril anhydrous.
Ecadol 10 
Each coated tablet contains:
Lisinopril dihydrate equivalent to 10 mg of lisinopril anhydrous.
Ecadol 20 
Each coated tablet contains:
Lisinopril dihydrate equivalent to 20 mg of lisinopril anhydrous.
Ecadol H
Each coated tablet contains:
Lisinopril dihydrate equivalent to 10 mg of lisinopril anhydrous.
Hydrochlorothiazide 12.5 mg
Ecadol D
Each coated tablet contains:
Lisinopril dihydrate equivalent to 20 mg of lisinopril anhydrous.
Hydrochlorothiazide 12.5 mg
---
Posology and administration 
Essential hypertension:
The usual dose is one tablet administered once a day. If necessary, the dose can be increased to two tablets in a single dose a day.
Dosage in kidney failure:
Thiazides should not be used as initial therapy in patients with kidney failure. The treatment can be used in patients with creatinine clearance of minus 30 and minus 80 ml / min. But only after titration of the individual components.
The recommended starting dose of Ecadol in mild renal failure when used individually is 5 to 10 mg.
---
Presentation
Ecadol 5: box with 20 coated tablets.
Ecadol 10: box with 20 coated tablets.
Ecadol 20: box with 20 coated tablets.
Ecadol H: box with 20 coated tablets.
Ecadol D: box with 20 coated tablets.
---
Storage Recommendations
Store below 30 °C, protected from moisture.
[/vc_column][/vc_row]