[vc_row inner_container=»true» bg_color=»#ffffff» style=»margin-bottom:0px; padding-bottom:0px;»][vc_column alignment=»left» width=»1/2″]
Dolopal Forte
[/vc_column][vc_column width=»1/2″]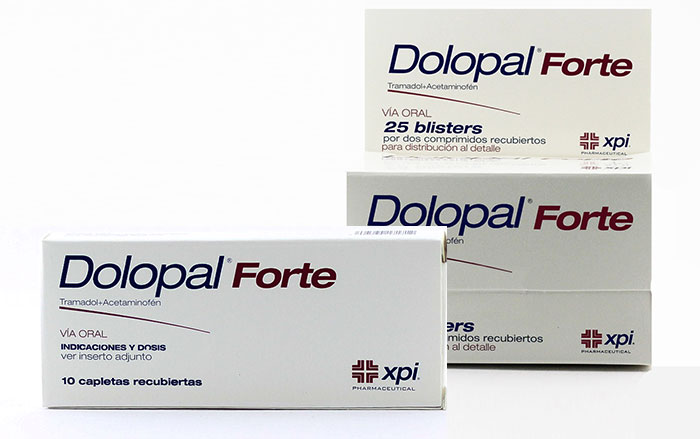 [/vc_column][/vc_row][vc_row inner_container=»true» bg_color=»#ffffff» style=»margin-top:0px; margin-bottom:0px;»][vc_column width=»1/1″]
Properties
Dolopal Forte is the combined synergistic association of tramadol hydrochloride plus acetaminophen. Tramadol is a centrally acting pain reliever, an opioid agonist especially on «mu» receptors. It also has a modulating action on the monoaminergic system since it causes an inhibition of the reuptake of norepinephrine and serotonin in the CNS, increasing its bioavailability at the synapse, which results in analgesia. These two mechanisms of action are synergistic with each other.
Acetaminophen is an analgesic, antipyretic that acts at different levels and through different mechanisms that enhance its action.
Following oral administration, tramadol hydrochloride is rapidly and almost completely absorbed (90%), its maximum serum concentrations are reached about two hours after administration, and its absolute bioavailability is about 65%. Acetaminophen is rapidly and almost completely absorbed from the gastrointestinal tract, reaches its maximum plasma concentration in 30 to 60 minutes, and the half-life is around two hours.
Indications
Dolopal Forte is indicated for the relief of moderate to severe pain, whether acute or chronic, as well as in painful diagnostic interventions and post-surgical pain.
In Gynecology – Obstetrics: post operative states, painful diagnostic or therapeutic procedures (curettage, biopsies).

Surgery – Traumatology: fractures, trauma, burns, post-operative pain.

Diagnostic and therapeutic interventions: in gastroenterology, urology, otorhinolaryngology and other specialties.

Neurology: neuropathic pain (diabetic and post-herpetic neuropathy, trigeminal neuralgia).

Oncology: very useful for managing pain of acute and chronic tumor origin. Rheumatology: osteoarthritis when NSAIDs are not well tolerated. Chronic low back pain.
[/vc_column][/vc_row][vc_row inner_container=»true» bg_color=»#ffffff» style=»margin-top:0px; margin-bottom:0px;»][vc_column width=»1/2″]
---
Contraindications
Hypersensitivity to the components, respiratory depression, asthmatic states, acute intoxication by hypnotics, centrally acting analgesics, opioids and other psychotropic drugs.
Side effects
With tramadol / acetaminophen the most frequently reported undesirable effects observed in more than 10% of patients are: nausea, dizziness and drowsiness. Occasional (1-10%): vomiting, constipation, sweating, dry mouth, headache, and confusion.
Gastrointestinal irritation and dermatological reactions (pruritus, rash, urticaria) may occur in some patients. If the recommended doses are considerably exceeded or administered together with central depressants, respiratory depression may occur.
Drug interactions
Dolopal Forte should not be combined with monoamine oxidase inhibitors, such as iproniazide because serotonin syndrome (diarrhea, tachycardia, sweating, tremor, confusion, and even coma) may occur. With moclobemide, toloxatone by extrapolation of the effects with non-selective monoamine oxidase inhibitors. With selegiline (monoamine oxidase inhibitors) due to the risk of symptoms of central excitation that evoke a serotonin syndrome. Non-selective monoamine oxidase inhibitors should be left.
When selective monoamine oxidase A or B inhibitors have been used, wait at least 24 hours before Tramadol / Acetaminophen treatment. Buprenorphism, nalbuphine, pentazocine (opioid antagonists – antagonists or partial agonists) because they can decrease the analgesic effect due to a competitive effect on the receptors, with the risk of withdrawal syndrome.
Alcohol and other central nervous system depressants increase the liver toxicity of Acetaminophen. Concomitant use with alcohol or medications containing alcohol is not recommended, as the sedative effect is increased and it can make it risky to drive vehicles or operate machinery.
Carbamazepine, due to the risk of decreasing plasma concentrations of Tramadol and therefore decreasing its analgesic action.
Due to the tramadol present in this combination, it must be taken into account that: it may increase the risk of respiratory depression associated with other opioids (antitussives) or benzodiazepines and barbiturates. The risk of seizures can be increased with drugs that lower the seizure threshold, such as: bupropion, serotonin reuptake inhibitor antidepressants, tricyclic antidepressants, neuroleptics.
Cautions
Extreme caution should be exercised in patients with hypercapnia, anoxia, respiratory depression, seizure, acute alcoholism, hypothyroidism, COPD. Dolopal Forte should not be administered to patients receiving MAOIs or who have received them within 14 days prior to their indication.
Warnings
Sale by prescription. Keep out of reach of children.
[/vc_column][vc_column width=»1/2″ style=»background-color:#f4f4f4; height:100%; padding-left:10px; padding-right:10px;»]
Composition
Each coated caplet contains:
Tramadol hydrochloride    37.5 mg
Acetaminophen    325 mg
C.S.P. excipients
---
Posology and administration
Orally.
Adults and over 16 years: 2 caplets every 4-6 hours. Maximum 8 caplets a day. The minimum interval between each intake should be 4 hours. It should not be administered for longer than necessary, if long-term treatment is required, careful and regular medical monitoring should be done.
The caplets must not be broken or chewed, they must be swallowed complete with enough liquid.
---
Presentation
Box containing 1 blister with 10 coated caplets.
Box containing 25 blisters with 2 coated caplets.
---
Storage Recommendations
Store at a temperature below 30 °C.
[/vc_column][/vc_row]