[vc_row inner_container=»true» bg_color=»#ffffff» style=»margin-bottom:0px; padding-bottom:0px;»][vc_column alignment=»left» width=»1/2″]
Akun
[/vc_column][vc_column width=»1/2″]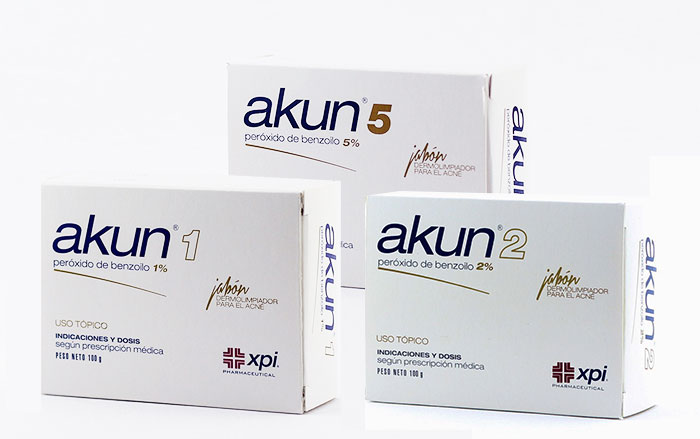 [/vc_column][/vc_row][vc_row inner_container=»true» bg_color=»#ffffff» style=»margin-top:0px; margin-bottom:0px;»][vc_column width=»1/1″]
Properties
Akun is a benzoyl peroxide based acne cleansing bar. The mechanism of action of benzoyl peroxide is unknown; but it is known that it is decomposed in the skin by cysteine, releasing oxygen free radicals that oxidize bacterial proteins in the sebaceous follicle, thus decreasing the number of bacteria and irritation caused by fatty acids. Its effectiveness in the treatment of acne vulgaris is mainly attributed to its antibacterial activity on Propionibacterium Acnes, the predominant bacterial agent in sebaceous follicles and comedones of acne skin. 5% is absorbed through the skin where it is metabolized to benzoic acid and is then excreted as benzoate in the urine. Akun kills acne-causing bacteria, dries breakouts, aids in skin peeling, and reduces the number of comedones (pimples) that block pores. It also has a mild drying effect, which destroys excess oils, bacteria and dirt that build up above and below the skin. Akun has no effect on the production of sebum or the spread of dead skin cells, it should be used with caution and only in areas affected by acne. It is recommended to start with a low dose (1%), once or twice a day in the affected area and then increase to a higher dose once tolerance to the product develops or as directed by the doctor, without exceeding the number of applications that it preserves. It may take several weeks before symptoms improve.
Indications
Akun is indicated to treat mild or moderate acne vulgaris and inflammatory acne. Benzoyl peroxide, present in Akun, is a known anti-acne active ingredient. Its activity in the symptomatic treatment of acne vulgaris is antibacterial, keratolytic, comedolytic and disenchanting in the affected area. In general, a visible improvement in the symptoms of acne vulgaris can be observed five days after treatment.
[/vc_column][/vc_row][vc_row inner_container=»true» bg_color=»#ffffff» style=»margin-top:0px; margin-bottom:0px;»][vc_column width=»1/2″]
---
Contraindications
Akun is contraindicated in patients allergic (hypersensitive) to benzoyl peroxide or any of its components. It should also not be used if the skin is very sensitive or irritated.
Side effects
The use of Benzoyl Peroxide may cause slight burning or stinging, itching or tingling, dryness, peeling or peeling of the skin, redness, tenderness, mild swelling. Irritation is common in people with sensitive skin.
If the patient has a skin reaction, the effects usually wear off within 48 hours, after stopping the use of benzoyl peroxide. In case the symptoms persist it could imply that the skin is not tolerant to Benzoyl Peroxide and therefore, the patient should not use products that contain it in its base.
Pharmacological interactions
Akun should not be used in conjunction with tretinoin; since using these products together could cause severe irritation.
Akun should not be combined with other scaling treatments or preparations containing alcohol, abrasive cleansers, desiccant cosmetics or other topical medications, unless medically indicated.
Cautions
While using Akun, the use of irritating skin products should be avoided, such as strong soaps, shampoo or skin cleansers, hair coloring or chemicals for perms, depilatories or waxes, skin products that contain alcohol; spices, astringents, or lime. Do not use other skin products unless your doctor tells you to. The use of sunscreen-blocking creams containing PABA should be avoided, as skin color changes may occur.
Akun is for external use only and contact with eyes, lips and nostrils should be avoided. If these regions come into contact with Akun, they should be washed with plenty of water. Do not use Akun on regions of the skin burned by the sun, wind, dry, irritated skin or open skin. Also avoid the use of Akun in wounds and regions with eczema. Wait until these conditions are cured before using it.
The patient should seek emergency medical attention if they have any symptoms of an allergic reaction, such as: hives, shortness of breath, swelling of the face, lips, tongue or throat or if they have any symptoms not described in this leaflet. Stop using Akun and see a doctor immediately if you have severe itching or burning of the skin.
Warnings
Sale by prescription. Keep this and all medications out of the reach of children, never share it with others and use it only for the condition for which it was indicated. If your doctor prescribes any other medications, let them know you are using Akun.
[/vc_column][vc_column width=»1/2″ style=»background-color:#f4f4f4; height:100%; padding-left:10px; padding-right:10px;»]
Composition
Akun 1
Each 100 g contain:
Benzoyl peroxide    1 g
C.S.P. excipients
Akun 2
Each 100 g contain:
Benzoyl peroxide    2 g
C.S.P. excipients
Akun 5
Each 100 g contain:
Benzoyl peroxide    5 g
C.S.P. excipients
---
Administration and method of use
Administration route: Topical
How to use:
Wash your hands before and after using Akun, clean the affected area and dry it, then apply to the skin previously moistened with water, leave it to act for a minute and rinse with plenty of water.
At the beginning of the treatment it is normal to momentarily feel a slight sensation of heat or itching.
Benzoyl peroxide can bleach hair or fabrics, so avoid contact with clothing or hair.
---
Presentation
Akun 1: Box containing 100g paste soap.
Akun 2: Box containing 100g paste soap.
Akun 5: Box containing 100g paste soap.
---
Storage Recommendations
Store at a temperature of 20 ° C to 30 ° C. Protect from light.
[/vc_column][/vc_row]