[vc_row inner_container=»true» bg_color=»#ffffff» style=»margin-bottom:0px; padding-bottom:0px;»][vc_column alignment=»left» width=»1/2″]
Riboflax
[/vc_column][vc_column width=»1/2″]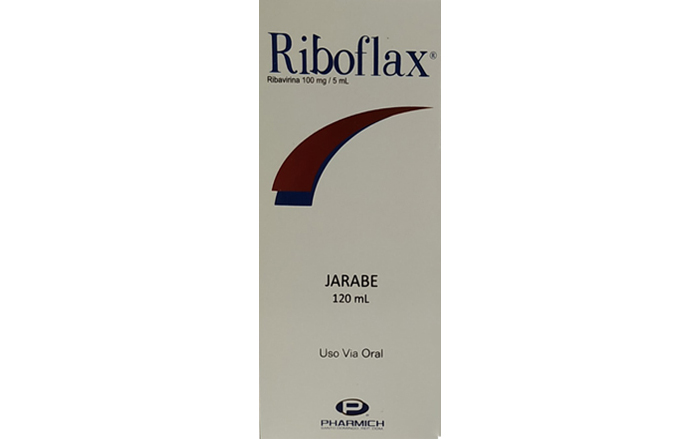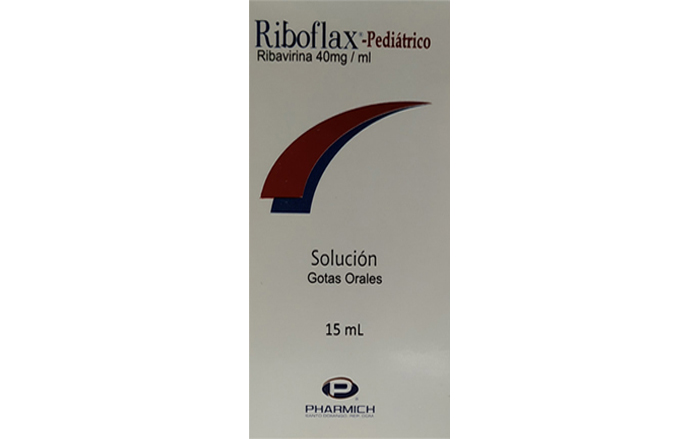 [/vc_column][/vc_row][vc_row inner_container=»true» bg_color=»#ffffff» style=»margin-top:0px; margin-bottom:0px;»][vc_column width=»1/1″]
Therapeutic indications
Riboflax is indicated to treat viral infections such as: chickenpox (immunocompetent and immunosuppressed), herpes zoster, cold sores, primary genital herpes, herpetic gingivostomatitis, and respiratory infections due to respiratory syncytial virus (bronchiolitis), influenza, parainfluenza, and prophylaxis of recurrent genital herpes.
Pharmacodynamics and pharmacokinetics in humans
Riboflax contains ribavirin, an antiviral that works by inhibiting the guanylation process of viral messenger RNA; additionally, it inhibits the activity of the RNA and DNA polymerase in the respective viruses, as well as the HIV reverse transcriptase. Among the sensitive DNA viruses we can mention herpes simplex virus 1 and 2, varicella zoster virus, cytomegalovirus and adenovirus. Among RNA viruses: human immunodeficiency virus, hepatitis C virus, influenza A and B virus, parainfluenza 1 and 3 virus, respiratory syncytial virus, rubella virus, mumps virus, measles, dengue virus, coxsackievirus, rhinovirus, rotavirus, and Lassa fever virus.
Ribavirin is absorbed orally and reaches its maximum plasma concentration after 30 minutes, and in both cases, with levels above the minimum inhibitory concentrations for susceptible viruses. Its initial half-life orally is 2 hours and 15 minutes parenterally.
It has a wide distribution in the body, mainly at the skeletal muscle level, adrenal glands, kidney, spleen and cerebrospinal fluid, where it reaches concentrations between 66% and 95% of plasma.
Ribavirin is metabolized mainly in the liver, giving rise to 1, 2, 4, triazole 3-carboxamide (active metabolite) and 1, 2, 4, triazole-3-carboxylic acid. 53% of the administered dose is excreted in the urine as ribavirin and its metabolites. It is also excreted through faeces (15%) and via the lung (2%).
Contraindications
Pregnancy and lactation.
[/vc_column][/vc_row][vc_row inner_container=»true» bg_color=»#ffffff» style=»margin-top:0px; margin-bottom:0px;»][vc_column width=»1/2″]
---
Precautions or restrictions on use during pregnancy and lactation
Riboflax should not be administered during pregnancy. However, there are reports of the use of ribavirin spray in pregnant women, most in the second and third trimesters, with measles pneumonia, and no abnormalities or defects were detected in the children of these women. It is not known whether the drug is distributed into breast milk; however, its use during lactation should be at the discretion of the doctor.
Side effects
The recommended treatment regimens of 1,200 mg daily for 10 to 20 days have not been shown to reduce hemoglobin, hematocrit and erythrocyte levels.
Use for periods longer than 4 weeks may be associated with a decrease in these parameters, which has been shown to be transient and reversible and has not prevented the continuation of treatment.
Drug interactions
Synergism of ribavirin with dideoxinosine (ddl) has been observed as inhibitors of the human immunodeficiency virus. Other interactions are unknown
[/vc_column][vc_column width=»1/2″ style=»background-color:#f4f4f4; height:100%; padding-left:10px; padding-right:10px;»]
Composition
Riboflax pediatric drops
Ribavirin     40 mg

C.S.P. excipients     1 ml
Riboflax syrup
Ribavirin     100 mg

C.S.P. excipients     5 ml
Riboflax caplets
Ribavirin     400 mg

C.S.P. excipients     1 caplet
---
Administration route
Oral
---
Dosage
Adults:

Herpes zoster, chicken pox and acute genital herpes (primary or recurrent): 1 caplet (400 mg) 3 times a day for 6 days minimum.

Prophylaxis of recurrences of genital herpes: 1 caplet (400 mg) daily (single dose) indefinitely.

Acute hepatitis C: 1 complete 3 times a day for 20 days.


Chronic hepatitis C: 1 caplet (400 mg) 3 times a day for 6-12 months, depending on the response in serum parameters.

Gradually reduce the dose until discontinued.
Children:

Schoolchildren and preschoolers: Syrup: 1 ml (20 mg) / KG / day divided into 3 doses (every 8 hours).


Infants: Solution drops, 10 drops (20 mg) / KG / day divided into 3 doses (every 8 hours). The duration of treatment is similar to that indicated for adults.
---
Presentation
Riboflax Pediatric drops: Dropper bottle with 15 ml.
Riboflax Syrup: Bottle with 120 ml.
Riboflax Caplets: Box with 24 400 mg coated-caplets.
---
Storage Recommendations
Store at a temperature below 30 °C.
[/vc_column][/vc_row]