[vc_row inner_container=»true» bg_color=»#ffffff» style=»margin-bottom:0px; padding-bottom:0px;»][vc_column alignment=»left» width=»1/2″]
Carboxil Syrup
[/vc_column][vc_column width=»1/2″]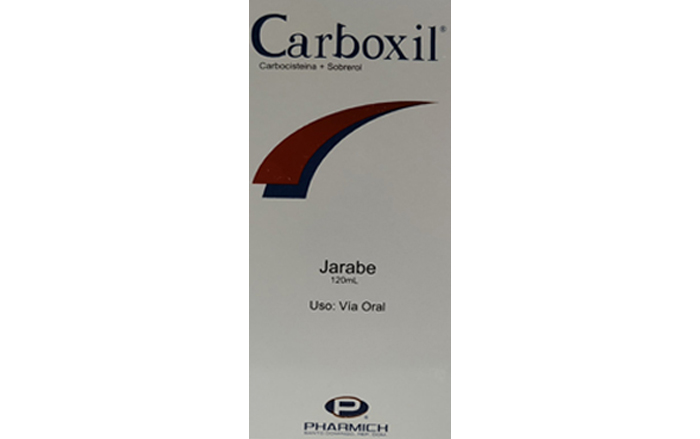 [/vc_column][/vc_row][vc_row inner_container=»true» bg_color=»#ffffff» style=»margin-top:0px; margin-bottom:0px;»][vc_column width=»1/1″]
Properties
Carboxil Syrup represents a rational combination of two substances with a complementary effect: Carboxymethylcysteine ​​and Sobrerol.
Carboxymethylcysteine ​​is a mucolytic with a fast and intense fluidizing effect on viscous airway secretions, especially the mucous or mucopurulent type.
Sobrerol, in addition to potentiating the mucolytic action of Carboxymethylcysteine, induces a removal of secretions, cleaning the airways.
Likewise, Carboxil causes, on the one hand, the reduction of pathological viscosities of mucus in the respiratory tract, and on the other hand, its removal. In this way, Carboxil allows a better regeneration of the altered respiratory mucosa, through a global process, that is, mucolytic, mucorregulatory and expectorant.
Therapeutic indications
Fluidizing treatment of mucous and mucopurulent secretions in acute and chronic conditions of the respiratory system: bronchitis, bronchiectasis, bronchopneumonia, especially associated with respiratory failure (asthma, emphysema); Bronchonic catarrh associated with forms of pulmonary tuberculosis and pneumonia, rhinopharyngitis, laryngotracheitis.

Prophylaxis and treatment of bronchopulmonary complications in surgical interventions.
Drug interactions
No pharmacological interactions with the components of Carboxil Syrup are found.
There is no contraindication in the administration of Carboxil Syrup during the period of pregnancy and lactation.
Carboxil Syrup has no effect on the ability to drive and use machines.
[/vc_column][/vc_row][vc_row inner_container=»true» bg_color=»#ffffff» style=»margin-top:0px; margin-bottom:0px;»][vc_column width=»1/2″]
---
Contraindications
Individual hypersensitivity to each of the components of Carboxil Syrup.

Peptic ulcer in active phase.
Side effects
In the indicated dosage, Carboxil Syrup is generally well tolerated by infants and children and adults. The administration of high doses, higher than the recommended ones, can cause digestive disorders such as gastralgia, nausea and diarrhea.
Special precautions for use
Carboxil Syrup does not require any special precautions for its administration.
Posology
For children under 5 years: 5 ml 2 times a day.
For children from 5 to 10 years old: 10 ml 2 times a day.
For adults: 10 ml 3 times a day.
[/vc_column][vc_column width=»1/2″ style=»background-color:#f4f4f4; height:100%; padding-left:10px; padding-right:10px;»]
Composition
Each 5 ml of syrup contains:
Carboxymethylcysteine    250 mg
Sobrerol     40 mg
---
Administration route
Oral
---
Presentation
Box containing a bottle with 120 ml of syrup.
M/M Box containing bottle with 30 ml of syrup.
---
Storage Recommendations
Store below 30 °C.
[/vc_column][/vc_row]