[vc_row inner_container=»true» bg_color=»#ffffff» style=»margin-bottom:0px; padding-bottom:0px;»][vc_column alignment=»left» width=»1/2″]
Ultraderm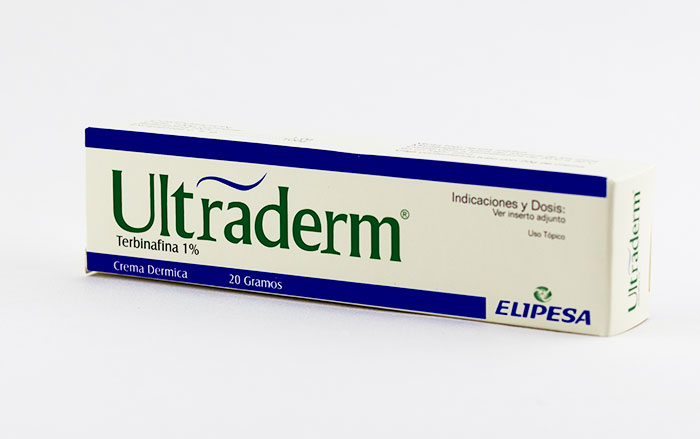 [/vc_column][vc_column width=»1/2″]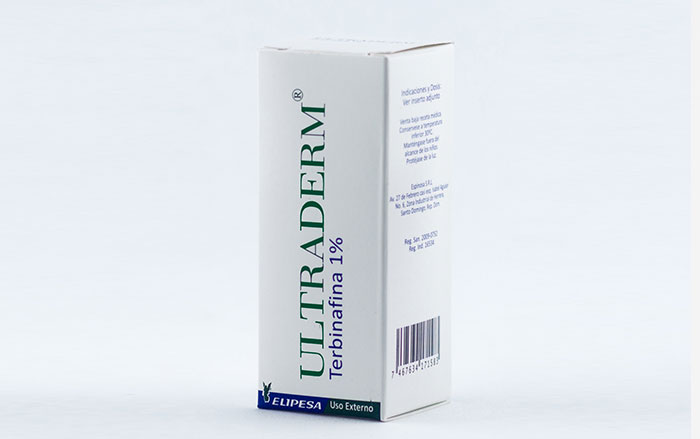 [/vc_column][/vc_row][vc_row inner_container=»true» bg_color=»#ffffff» style=»margin-top:0px; margin-bottom:0px;»][vc_column width=»1/1″]
Properties / Effects
Ultraderm contains Terbinafine, an allylamine that has a broad spectrum of antifungal activity, being its fungicidal action against dermatophytes, molds and certain dimorphic fungi. The activity against yeasts is fungicidal or fungistatic depending on the species. Terbinafine has long-lasting action, less than 10% of people who suffer from athlete's foot treated with 1% terbinafine cream for a week, relapse or reinfection after 3 months of starting treatment.

Terbinafine interferes with biosynthesis of fungal ergosterol at an early stage, leading to ergosterol deficiency and intracellular accumulation of squalene, resulting in fungal cell death. The enzyme squalene-epoxidase is not linked to the cytochrome P-450 system. Terbinafine does not affect the metabolism of hormones or other drugs.
Pharmacokinetics
Less than 5% of the dose is absorbed after topical application in man, so the systemic exposure is very mild. The biotransformation of terbinafine produces metabolites without antifungal activity, it is mainly excreted in urine and faeces. The elimination half-life is 17 hours. There is no evidence of accumulation.
Indications
Fungal skin infections caused by dermatophytes, such as Trichophyton (T. rubris, T mentagrophytes, T. verrosum, T. violaceurn), Mcrosporum canis and Epidermophyton floccosum, tinea pedís (Tinea podal – athlete's foot), tinea cruris (ringworm crural or inguinal) and tinea corporis (body ringworm). Yeast skin infections, mainly those caused by the genus Candida (Candida albicans). Pityriasis versicolor (tinea versicolor) caused by Pityrosporum ovale (also known as Malassezia furfur), Onychomycosis.
[/vc_column][/vc_row][vc_row inner_container=»true» bg_color=»#ffffff» style=»margin-top:0px; margin-bottom:0px;»][vc_column width=»1/2″]
---
Dosage / method and duration of treatment
Ultraderm Cream
Adults and kids older than 12 years old:
Apply once or twice a day, thoroughly cleaning and drying the affected areas previously. Apply a thin layer of Ultraderm Cream on the affected area and the surrounding areas with a light massage. In case of intertriginous infections (submammary, interdigital, intergluteal, inguinal) the application can be covered with a piece of gauze especially at night.
Tinea pedís, tinea corporis, tinea cruris: once a day, one week
Cutaneous candidiasis: 1-2 weeks.
Pityriasis versicolor: 2 weeks.
Remission of clinical symptoms generally occurs within a few days. Irregular use or interruption of treatment carries a risk of relapse. If after two weeks there are no signs of improvement, the diagnosis should be checked. The duration and frequency of treatment will vary depending on the type of infection and its location.
Ultraderm Topical Solution
Tinea corporis (ringworm): apply a little solution once a day for a week.
Tinea pedis (athlete's foot) and Tinea interdigital: apply once a day for a week.
Pityriasis versicolor: apply twice a day for a week.
Onychomycosis treatment of hands and feet: Apply the necessary drops to the nail and then file the remaining part of the nail well to start the application of Ultraderm Solution. In some cases the treatment should be extended for 6 months.
Use in the elderly: There is no evidence that the elderly require different doses than those recommended for younger subjects or that the side effects they experience are different.
Side effects:
Occasionally redness, itching, or hives may occur at the application site; however, treatment should rarely be discontinued for this reason. These harmless symptoms should be distinguished from allergic reactions which are rare but require discontinuation of treatment.
Drug Interactions:
No drug interactions with terbinafine have been described.
[/vc_column][vc_column width=»1/2″ style=»background-color:#f4f4f4; height:100%; padding-left:10px; padding-right:10px;»]
Composition
Ultraderm Cream
Terbinafine Hydrochloride 1 g

C.S.P. excipients 100 g
Ultraderm Topical Solution
Terbinafine Hydrochloride 1 g

C.S.P. excipients 100 ml
---
Administration route
Topical.
---
Presentation
Box containing a dropper bottle with 30 ml of topical solution.

Box containing a tube with 20 g of cream.
---
Storage recommendation
Ultraderm Cream: Store at a temperature of 20 °C to 30 °C.

Ultraderm Topical Solution: Store at a temperature of 15 °C to 25 °C and protect from light.
---
Contraindications
Hypersensitivity to terbinafine or to any of the excipients contained in the formula.

It should not be administered during pregnancy, unless the potential benefits clearly outweigh the possible risks. Terbinafine passes into breast milk and even when they are small amounts, their use cannot be recommended in mothers who are breastfeeding.
Warning and precautions
Ultraderm is indicated exclusively for external use. Avoid contact with eyes

To avoid re-infection (eg underwear, socks, shoes, etc.) good general hygiene is necessary when using Ultraderm.
[/vc_column][/vc_row]