[vc_row inner_container=»true» bg_color=»#ffffff» style=»margin-bottom:0px; padding-bottom:0px;»][vc_column alignment=»left» width=»1/2″]
Telx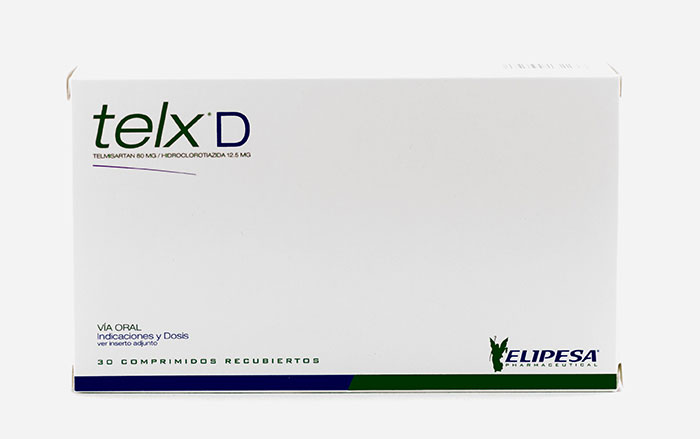 [/vc_column][vc_column width=»1/2″]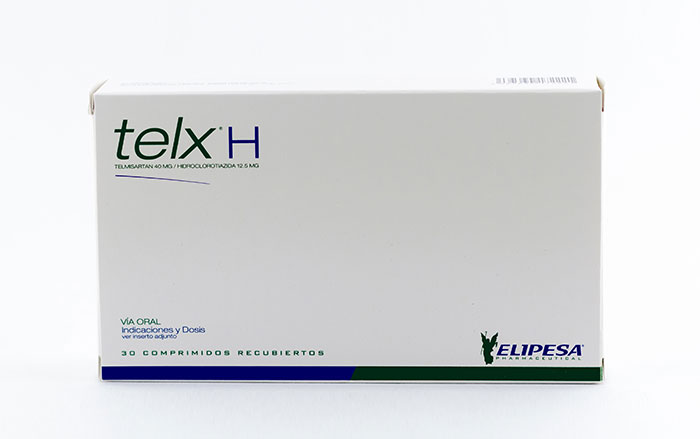 [/vc_column][/vc_row][vc_row inner_container=»true» bg_color=»#ffffff» style=»margin-top:0px; margin-bottom:0px;»][vc_column width=»1/1″]
Description
Telx 20, Telx 40 y Telx 80 contain Telmisartan, a specific and orally effective angiotensin II receptor antagonist (type AT1). Telmisartan displaces angiotensin II with a very high affinity for its binding site on the AT1 receptor subtype, which is responsible for the known actions of angiotensin II and exhibits no partial agonist activity at the AT1 receptor. Telmisartan selectively binds to the AT1 receptor and the binding is long-lasting. Telmisartan has no affinity for other receptors, including AT2 and other less characterized AT receptors. The functional role of these receptors is unknown, as well as the effect of their possible overstimulation caused by angiotensin II. Telmisartan reduces plasma levels of aldosterone, does not inhibit human plasma renin or block ion channels, does not inhibit angiotensin-converting enzyme (quinine II), which also degrades bradykinin, therefore it is not expected to enhance bradykinin-mediated adverse effects.
Telx H, Telx D y Telx Plus contein Telmisartan and Hydrochlorothiazide.
In man, a dose of Telmisartan virtually completely inhibits the increase in blood pressure caused by angiotensin II. The inhibitory effect is maintained for 24 hours and can still be detected after 48 hours.

After the first dose of Telmisartan, antihyperensive activity gradually becomes apparent over the long term of 3 hours. The maximum reduction in blood pressure is usually reached 4 weeks after starting treatment and is maintained during long-term therapy. After abrupt discontinuation of treatment with Telmisartan, blood pressure gradually returns to pre-treatment values ​​over a period of several days, with no evidence of rebound hypertension.

Hydrochlorothiazide is a thiazide diuretic. The mechanism of the antihypertensive effect of thiazide diuretics is not fully understood. Thiazides affect the renal tubular mechanisms of electrolyte reabsorption, directly increasing the excretion of sodium and chloride in approximately equivalent amounts. The diuretic action of hydrochlorothiazide reduces plasma volume, increases plasma renin activity, and increases aldosterone secretion, with consequent increases in urine potassium, loss of bicarbonate, and reduced serum potassium. The renin-aldosterone bond is mediated by angiotensin II; therefore, co-administration of Telmisartan tends to reverse the loss of potassium associated with these diuretics.
Pharmacokinetics and Pharmacodynamics
The absorption of Telmisartan is fast. After oral administration, peak concentrations are reached at 0.5-1.5h after the dose. Its average absolute bioavailability is approximately 50%. Telmisartan binds in a high proportion to plasma proteins (99.5%), mainly albumin and glycoprotein a-1 acid. The average apparent volume of distribution at steady state is approximately 500 L, it is metabolized by glucoronide conjugation. No pharmacological activity has been demonstrated for the conjugate.

The terminal elimination half-life is more than 20 hours. Telmisartan is excreted almost exclusively in the faeces, mainly as unchanged compound, the cumulative urinary excretion is less than 1% of the doses.

Hydrochlorothiazide: Following oral administration, peak hydrochlorothiazide concentrations are reached approximately 1.0-3.0 hours post-dose. Based on the accumulated renal excretion of hydrochlorothiazide, the absolute bioavailability was approximately 6%. Hydrochlorothiazide is 64% bound to proteins in plasma and its apparent volume of distribution is 0.8-0.3 l / kg. The onset of diuresis occurs at 2 hours and the peak effects are recorded at approximately 4 hours, while the action persists for approximately 6-12 hours. Hydrochlorothiazide is not metabolized, but is rapidly eliminated by the kidney. At least 61% of the oral dose is eliminated unchanged within 24 hours.

Concomitant administration of Hydrochlorothiazide and Telmisartan has no effect on the pharmacokinetics of any of the drugs. Epidemiological studies have shown that long-term treatment with hydrochlorothiazide reduces the risk of cardiovascular morbidity and mortality.
[/vc_column][/vc_row][vc_row inner_container=»true» bg_color=»#ffffff» style=»margin-top:0px; margin-bottom:0px;»][vc_column width=»1/2″]
---
Indications
Telx 20, Telx 40 and Telx 80 are indicated for the treatment of essential arterial hypertension and prevention of morbidity and mortality in patients 55 years of age or older at high risk of cardiovascular disease.

Telx-H, Telx-D and Telx-Plus are indicated for patients whose blood pressure cannot be adequately controlled with Telmisartan or Hydrochlorothiazide alone.
Posology
Treatment of essential hypertension: in adults, the recommended starting and maintenance dose is 40mg once a day. Benefit can be seen in some patients even with 20mg. In those cases where the desired blood pressure has not been reached, the dose can be increased to a maximum of 80mg 1 time a day. As an alternative, Telmisartan can be used in combination with thiazide-type diuretics, such as hydrochlorothiazide, once a day that has been shown to have an additive hypotensive effect alongside Telmisartan. When considering a dose increase, it must be taken into account that the maximum antihypertensive effect is reached 4 weeks after starting treatment. Prevention of cardiovascular morbidity and mortality: the recommended dose is 80 mg once a day.

It can be taken with or without food.

No dosage adjustment is necessary in patients with renal impairment, including those on hemodialysis. Telmisartan is not removed during dialysis. In patients with hepatic impairment, the daily dose should not exceed 40mg.

Elderly: No dosage adjustment is required.
Side effects
The overall incidence of adverse events reported with Telmisartan (41.4%) was generally comparable to placebo (43.9) in controlled clinical studies in patients treated for hypertension. The incidence of adverse events was unrelated to the dose and showed no correlation with the sex, age or race of the patients. The most frequent effects observed were: respiratory and urinary tract infections, anemia, syncope, abnormal vision, vertigo, bradycardia, tachycardia, hypotension, dyspnea, abdominal pain, diarrhea, eczema, erythema, liver disorders, chest pain, symptoms of flu.
Drug interactions
Telx may increase the hypotensive effect of other antihypertensive drugs. Co-administration of Telmisartan did not reveal clinically significant interactions with digoxin, warfarin, hydrochlorothiazide, glibenclamide, ibuprofen, paracetamol, simvastatin, and amlodipine. Regarding digoxin, an increase of about 20% (in an isolated case 39%) of the minimum concentration of plasma digoxin was observed, therefore monitoring of serum levels of it is recommended.

Hydrochlorothiazide: When the following drugs are administered concomitantly, they may interact with thiazide diuretics: Alcohol, barbiturates, or narcotics. Orthostatic hypotension potentiation can occur. In addition, a reduction in the antihypertensive effect of products such as Telmisartan has been observed, due to the inhibition of vasodilator prostaglandins during combined treatment with NSAIDs.
Special warnings and cautions
Pregnancy: Angiotensin II receptor antagonists should not be started during pregnancy.

Hepatic impairment: Telx should not be administered to patients with cholestasis, biliary obstructive disorders, or liver failure, since Telmisartan is mainly eliminated by bile. These patients can be expected to have reduced hepatic clearance for Telmisartan.

There is no experience regarding the administration of Telx in patients with severe renal insufficiency or with a recent kidney transplant. There is little experience of Telx in patients with mild or moderate renal impairment, therefore, periodic monitoring of potassium, creatinine and uric acid levels is recommended. Azoemia associated with thiazide-type diuretics may occur in patients with impaired renal function.

Elderly patients: No dosage adjustment is necessary.

Pediatric patients and adolescents: Telmisartan is not recommended for use in children under 18 years of age due to limited data on its safety and efficacy.

Preclinical studies with Telmisartan did not indicate a teratogenic effect, but they did show fetotoxicity.
[/vc_column][vc_column width=»1/2″ style=»background-color:#f4f4f4; height:100%; padding-left:10px; padding-right:10px;»]
Composition
Telx – 20
Each coated tablet contains:
Telmisartan 20 mg

C.S.P. excipients 1 coated tablet
Telx – 40
Each coated tablet contains:
Telmisartan 40 mg

C.S.P. excipients 1 coated tablet
Telx – 80
Each coated tablet contains:
Telmisartan 80 mg

C.S.P. excipients 1 coated tablet
Telx – H
Each coated tablet contains:
Telmisartan 40 mg

Hydrochlorothiazide 12.5 mg

C.S.P. 1 coated tablet
Telx – D
Each coated tablet contains:
Telmisartan 80 mg

Hydrochlorothiazide 12.5 mg

C.S.P. 1 coated tablet
Telx – Plus
Each coated tablet contains:
Telmisartan 80 mg

Hydrochlorothiazide 25 mg

C.S.P. 1 coated tablet
---
Administration route
Oral
---
Presentation
Telx 20- Box containing blister of 10 and 30 coated tablets.

Telx 40 – Box containing blister of 10 and 30 coated tablets.

Telx 80 – Box containing 10 and 30 coated blister packs.

Telx H – Box containing blister of 10 and 30 coated tablets.

Telx D – Box containing blister of 10 and 30 coated tablets.

Telx Plus – Box containing blister of 10 and 30 coated tablets.
---
Storage
Store below 30 ° C. Protect it from light and moisture.
---
Contraindications
Telx está contraindicado en caso de hypersensitivity to any of the components of the product, second and third trimester of pregnancy, lactation, biliary obstruction, severe liver disease. Due to the hydrochlorothiazide component, Telx H, Telx D and Telx Plus are contraindicated in patients with anuria or hypersensitivity to other drugs derived from sulfonamide.
Warning
Keep out of the reach of children. Sale under prescription.
---
[/vc_column][/vc_row]