[vc_row inner_container=»true» bg_color=»#ffffff» style=»margin-bottom:0px; padding-bottom:0px;»][vc_column alignment=»left» width=»1/2″]
Tandrex
Tramadol Hydrochloride / Diclofenac Potassium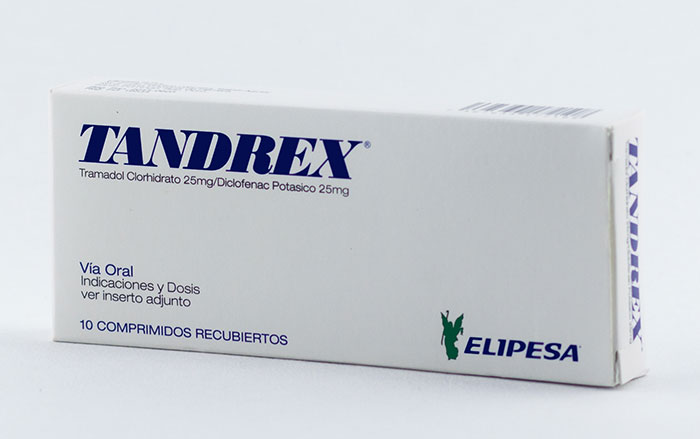 [/vc_column][vc_column width=»1/2″]
[/vc_column][/vc_row][vc_row inner_container=»true» bg_color=»#ffffff» style=»margin-top:0px; margin-bottom:0px;»][vc_column width=»1/1″]
Pharmacological properties
Tandrex and Tandrex Forte combine the synergistic action of tramadol and diclofenac, which work together to relieve acute to moderate to severe inflammatory pain. Tramadol is a centrally acting pain reliever, an opioid agonist especially on «mu» receptors. Other mechanisms that contribute to its analgesic effect are the inhibition of neuronal reuptake of norepinephrine; as well as the intensification of serotonin release. The potency of tramadol is 1/10 – 1/6 that of morphine. Diclofenac is a non-steroidal compound with marked anti-inflammatory, analgesic and antipyretic properties. Its main mechanism of action is the inhibition of prostaglandins by the inhibition of the synthesis of cyclooxygenase (COX). Prostaglandins play an essential role in the onset of inflammation, pain, and fever. Following oral administration, tramadol hydrochloride is rapidly and almost completely (90%) absorbed, its peak serum concentrations are reached about two hours after administration, and its absolute bioavailability is about 65%. Diclofenac potassium is completely absorbed after oral administration; however, due to its first pass metabolism only about 50% of the absorbed dose is available systemically. The maximum plasma concentration is achieved in approximately 15 minutes. It is excreted via the kidney and bile, mainly as metabolites in the form of glucuronates or sulfates.
Indications
Tandrex and Tandrex Forte are indicated for relief of acute inflammatory pain of moderate to severe intensity.
[/vc_column][/vc_row][vc_row inner_container=»true» bg_color=»#ffffff» style=»margin-top:0px; margin-bottom:0px;»][vc_column width=»1/2″]
---
Posology
Adults and adolescents over 16 years of age: One tablet every eight hours. The dose should be adjusted according to the intensity of pain and sensitivity of each patient, the lowest effective dose should be selected. The tablets should not be broken or chewed, they should be swallowed complete with enough liquid.
Drug interactions
Tandrex and Tandrex Forte should not be used together with MAO inhibitors because they put CNS, respiratory and cardiovascular functions at risk.

Concomitant administration with other central depressant medications, including alcohol, may potentiate CNS effects. Tramadol can induce seizures and increase the potential for selective serotonin reuptake inhibitors (SSRIs), tricyclic antidepressants, antipsychotics, and other drugs that lower the seizure threshold to cause seizures.

Previous or simultaneous administration of carbamazepine can reduce the analgesic effect and shorten the duration of action. Ketoconazole and erythromycin may inhibit the metabolism of tramadol in some patients. Pre or post-operative administration of the antiemetic 5-HT3 antagonist ondansetron increases the need for tramadol in patients with post-operative pain. The effectiveness of Warfarin or coumarins (anticoagulants) may be altered and bleeding may occur if used in conjunction with Tandrex or Tandrex Forte. Concomitant administration with other NSAIDs is not recommended as it may increase the risk of ulcers and gastrointestinal bleeding due to the synergistic effect. Concomitant administration with digoxin or lithium may increase their concentration.
Cautions
Extreme caution should be exercised in patients with hypercapnia, anoxia, respiratory depression, seizure, opioid-sensitive patients, acute alcoholism, hypothyroidism, COPD. Tandrex and Tandrex Forte should not be administered to patients receiving MAOIs or who have used them in the 14 days prior to the indication of the drug.

The risk of seizures may be increased when tramadol hydrochloride doses exceed the upper limit of the recommended daily dose, with epileptic patients or those who are susceptible to seizures.
Side effects
The most commonly reported unwanted effects for the tramadol / diclofenac combination are: nausea, dizziness and drowsiness, observed in more than 10% of patients.
Effects on ability to drive and use machinery
Tandrex and Tandrex Forte can cause dizziness and thus affect the ability to safely handle or use tools and machinery. This applies particularly at high dosages or in conjunction with other psychotropic substances, particularly alcohol.
[/vc_column][vc_column width=»1/2″ style=»background-color:#f4f4f4; height:100%; padding-left:10px; padding-right:10px;»]
Composition
Tandrex
Tramadol Hydrochloride 25 mg

Diclofenac Potassium 25 mg

C.S.P. excipients 1 coated tablet
Tandrex Forte
Tramadol Hydrochloride 25 mg

Diclofenac Potassium 50 mg

C.S.P. excipients 1 coated tablet
---
Administration route
Oral
---
Presentation
Box containing 10 coated tablets.

Box containing 50 coated tablets.
---
Storage
Store below 30 ° C. Protect it from moisture.
---
Contraindications
Tandrex and Tandrex Forte are contraindicated in case of hypersensitivity to tramadol, diclofenac or any of the excipients. Acute poisoning with alcohol, hypnotics, pain relievers, opioids, or other psychotropic medications. Patients who are receiving MAO inhibitors or who have taken them within the last 14 days, uncontrolled epilepsy, a history of bronchospasm, asthma, rhinitis or urticaria after administration of acetylsalicylic acid or other NSAIDs. Peptic ulcer and a history of gastrointestinal bleeding or perforation related to previous treatment with NSAIDs. Patients with cerebrovascular hemorrhage or other active hemorrhages. Severe liver or kidney failure, severe heart failure. Last trimester of pregnancy.
Warnings
Sale under prescription. Keep out of reach of children.
---
[/vc_column][/vc_row][vc_row bg_color=»#ffffff»][vc_column width=»1/1″]
Pregnancy and lactation
Tandrex and Tandrex Forte are contraindicated during pregnancy and lactation. Diclofenac: During the last three months of pregnancy, all prostaglandin synthesis inhibitors, including diclofenac, may expose the fetus to the following risks: Cardiopulmonary toxicity, disorders of kidney function, oligohydramnios, possible prolongation of bleeding time, inhibition of uterine contractions. If diclofenac is administered during the first six months of pregnancy, the lowest and shortest dose possible should be kept.

Small amounts of diclofenac and its metabolites pass into breast milk. Until now, no negative effects have been reported in the infant, and therefore in cases of short-term administration, it is generally not necessary to discontinue breastfeeding. If long-term or high-dose administration is prescribed for rheumatic diseases, early discontinuation of lactation should be considered.

Tramadol hydrochloride: should not be used during pregnancy as there is no appropriate evidence available to assess its safety. Tramadol hydrochloride administered before or during birth does not affect uterine contractility. In neonates it can induce changes in respiratory rate that are generally not clinically relevant. Long-term treatment during pregnancy can lead to withdrawal symptoms in the newborn after delivery, as a consequence of habituation. Tramadol hydrochloride should not be used during pregnancy.

Tramadol hydrochloride and its metabolites are found in small amounts in human breast milk. An infant could ingest approximately 0.1% of the dose administered to the mother; therefore it should not be ingested during lactation.
[/vc_column][/vc_row]