[vc_row inner_container=»true» bg_color=»#ffffff» style=»margin-bottom:0px; padding-bottom:0px;»][vc_column alignment=»left» width=»1/2″]
Fungoplex Soap
Antifungal, antiseptic and disinfectant.

Fungoplex Soap combines the broad-spectrum antifungal action of clotrimazole, with the antiseptic and disinfecting action of chloroxylenol. Both components rest on a base of vitamins and excipients, which help to regenerate, soften and beautify the skin.
[/vc_column][vc_column width=»1/2″]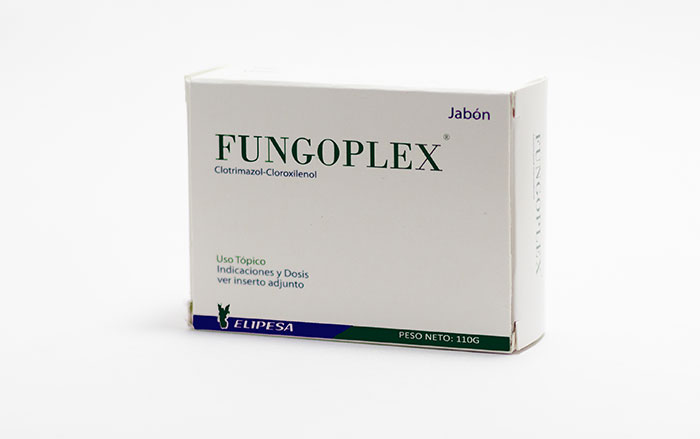 [/vc_column][/vc_row][vc_row inner_container=»true» bg_color=»#ffffff» style=»margin-top:0px; margin-bottom:0px;»][vc_column width=»1/1″]
Mechanism of action
Clotrimazole works by altering the fungal membrane by inhibiting ergosterol synthesis by interacting with 14-alpha-methylase, a cytochrome P450 enzyme that is necessary to transform lanosterol to ergosterol, an essential component of the fungal cell membrane. Chloroxylenol is a powerful and penetrating disinfectant with germicidal and antiseptic properties that, due to its high partition coefficient, easily penetrates through the cell membranes of bacteria and denatures protoplasmic proteins, which precipitate.
Pharmacokinetics
Absorption, Distribution, Metabolism and Excretion

After topical application to the skin or vaginally, plasma concentrations of clotrimazole are minimal. Vaginally, 5-10% of the dose is absorbed, but plasma concentrations are very small. Because clotrimazole binds to the oral and vaginal mucosa, significant concentrations of the drug are detected up to 3 days after its application. The small amounts that are absorbed are metabolized in the liver and excreted in the bile. Chloroxylenol is biotransformed, by complex processes of oxidation and hepatic conjugation. It is eliminated by urine.
[/vc_column][/vc_row][vc_row inner_container=»true» bg_color=»#ffffff» style=»margin-top:0px; margin-bottom:0px;»][vc_column width=»1/2″]
---
Indications
Fungoplex Soap is indicated to prevent or treat skin conditions that require antiseptic, disinfecting and fungicidal action, such as: wound cleaning, dermatomycosis (seborrhea and athlete's foot), external genital hygiene and as an adjunct in the treatment of vaginitis caused by candida and trichomona. Other indications are: pyodermitis, beard folliculitis and juvenile acne.
Pharmacological interactions
They have not been reported to date.
Dosage
Preventive action: Use as normal soap, applying enough foam on the affected area, wait 2-3 minutes and then remove with water.

Medicinal action: Apply enough foam on the affected area and leave (do not remove). Repeat this 2 or 3 times a day, previously removing the previous application with water.
Side effects
Uncommon local hypersensitivity reactions such as: burning, erythema, edema, scaling, itching and hives at the site of cutaneous application. When applied to the vagina, burning or irritation sensation.
Warning
Avoid contact with eyes, may cause irritation.
Cautions
Treatment should be discontinued in case of irritation or sensitization. Its use is considered harmless during pregnancy.
[/vc_column][vc_column width=»1/2″ style=»background-color:#f4f4f4; height:100%; padding-left:10px; padding-right:10px;»]
Composition
Each 100g of soap contain:
Clotrimazole 1.0 g

Chloroxylenol 1.0 g

C.S.P. excipients 100 g
---
Administration route
Topical
---
Presentation
Box containing a paste of 100 g.
---
Storage Recommendations
Store below 30 °C.
---
Contraindications
Fungoplex soap is contraindicated in case of hypersensitivity to clotrimazole, chloroxylenol or any component of the formula.
[/vc_column][/vc_row]