[vc_row inner_container=»true» bg_color=»#ffffff» style=»margin-bottom:0px; padding-bottom:0px;»][vc_column alignment=»left» width=»1/2″]
Fungoplex Dermal Cream
Antifungal, anti-inflammatory, bactericidal, for dermatological use. Fungoplex Cream combines the sustained anti-inflammatory, antipruritic effect of betamethasone with the broad-spectrum antifungal action of clotrimazole, which acts on the fungal cell membrane causing loss of cell content. In addition to this, the broad-spectrum bactericidal action of neomycin sulfate provides a highly effective topical treatment in primary and secondary bacterial skin infections caused by susceptible microorganisms.
[/vc_column][vc_column width=»1/2″]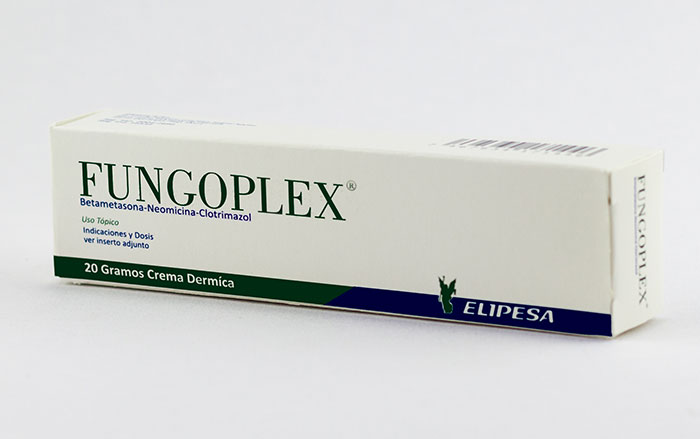 [/vc_column][/vc_row][vc_row inner_container=»true» bg_color=»#ffffff» style=»margin-top:0px; margin-bottom:0px;»][vc_column width=»1/1″]
Indications
Fungoplex Cream is indicated for all inflammatory skin conditions infected or not by fungus and / or bacteria, such as: contact dermatitis, atopic dermatitis, seborrheic dermatitis, chronic neurodermatitis, eczema, folliculitis, pyodermitis, ringworm in all locations (tinea pedis, tinea cruris, tinea corporis), cutaneous candidiasis and pityriasis versicolor.
Cautions
Long-term use of antibiotics may occasionally cause the proliferation of non-susceptible microorganisms. If this occurs or if irritation, hypersensitivity or superinfection occurs with the use of Fungoplex Cream, treatment should be discontinued and appropriate therapy initiated. Any of the side effects associated with systemic corticosteroid use, including adrenal suppression, can also occur with topical corticosteroids, especially in infants and children. Use during pregnancy: Fungoplex Cream will be used during pregnancy only if the potential benefit justifies the risk to the fetus. Use in lactating women: Since it is not known whether topical administration of corticosteroids can lead to sufficient systemic absorption to produce detectable amounts in breast milk, the decision should be made whether to discontinue breast-feeding or to use the product taking into account the importance of it for the mother.
[/vc_column][/vc_row][vc_row inner_container=»true» bg_color=»#ffffff» style=»margin-top:0px; margin-bottom:0px;»][vc_column width=»1/2″]
---
Interactions
The interactions that can occur with betamethasone correspond to its systemic use. There are no known interactions between topical betamethasone and other drugs. Concurrent use of other neurotoxic and nephrotoxic drugs increases the likelihood of side effects of neomycin, other aminoglycosides, or polymyxin. Inhibits the gastrointestinal absorption of penicillin, as well as vitamin B-12, methotrexate, and 5-fluoracil. The gastrointestinal absorption of digoxin also appears to be inhibited, so serum digoxin levels should be monitored. May increase the effect of anticumarinics. No synergism or antagonism has been reported between clotrimazole and nystatin, amphotericin B, and flucytosine against C. albicans strains.
Side effects
The following local adverse reactions have been described with the use of topical corticosteroids, especially when used under occlusive bandages: burning, itching, irritation, dryness, folliculitis, hypertrichosis, acneiform eruptions, hypopigmentation, perioral dermatitis.

Of almost 100 patients receiving topical treatment with clotrimazole for their dermatomycoses, 95% show excellent tolerance. Adverse reactions that have been reported include: erythema, itching, gallbladders, exfoliation, edema, pruritus, hives and general skin irritation. Neomycin treatment has produced transient irritation (erythema and pruritus) that usually does not require discontinuation of treatment.
Posology and use
Local application 1 or 2 times a day. Treatment should be continued for a reasonable time after symptoms disappear. When the acuity of the condition indicates so, Fungoplex Cream can be applied with a bandage (gauze) to maintain greater contact.
---
[/vc_column][vc_column width=»1/2″ style=»background-color:#f4f4f4; height:100%; padding-left:10px; padding-right:10px;»]
Composition
Each 100 g contain:
Betamethasone 0.05 g

Clotrimazole 1.0 g

Neomycin (Sulfate) 0.5 g

C.S.P. excipients 100 g
---
Administration route
Topical
---
Presentation
Box containing a tube with 20g of cream.
---
Storage Recommendations
Store at a temperature of 20 °C to 30 °C.
---
Contraindications and warnings
Fungoplex dermal cream is contraindicated in case of hypersensitivity to some of the components, tuberculosis or viral skin conditions.
[/vc_column][/vc_row]