[vc_row inner_container=»true» bg_color=»#ffffff» style=»margin-bottom:0px; padding-bottom:0px;»][vc_column alignment=»left» width=»1/2″]
Fludibron Caplets
Anti-flu : Antitussive

Nasal decongestant, antipyretic analgesic

Fludibron Caplets is an anti-influenza drug, based on Dextromethorphan, an antitussive that acts at the level of the central nervous system by suppressing paroxysmal cough attacks by depressing the medullary center of cough, together with Pseudoephedrine, a nasal decongestant vasoconstrictor and Acetaminophen as antipyretic analgesic.
[/vc_column][vc_column width=»1/2″]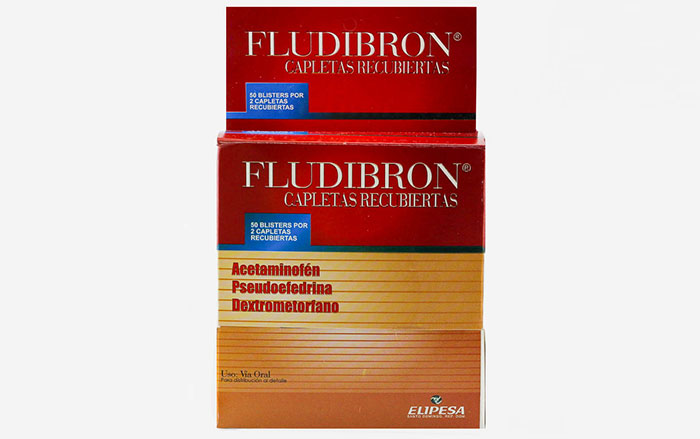 [/vc_column][/vc_row][vc_row inner_container=»true» bg_color=»#ffffff» style=»margin-top:0px; margin-bottom:0px;»][vc_column width=»1/1″]
Indications
Fludibron caplets is indicated to treat symptoms of the flu or common cold such as: cough, nasal congestion, muscle pain, headache, sore throat and fever.

Fludibron caplets is highly effective; since it acts in all forms of dry irritative cough with acute and chronic inflammations of the upper and lower respiratory tract, reducing its frequency and intensity. Relieves allergic cough and bothersome cold symptoms; as well as pain, fever and nasal congestion.
Pharmacokinetics and Pharmacodynamics
Dextromethorphan: In therapeutic doses, dextromethorphan acts on the CNS to inhibit cough without affecting the activity of the cilia. It is quickly absorbed by the gastrointestinal tract and begins its metabolism 15-60 minutes after ingestion. The average dose necessary to appreciate its therapeutic effects is 10-30 mg every 4-6 hours, its antitussive effect persists for 5-6 hours.

Pseudoephedrine: It is an agonist of alpha adrenergic receptors in the mucosa of the upper respiratory tract and produces vasoconstriction. It produces contraction of the inflamed mucous membranes, reduces tissue hyperemia, edema and nasal congestion, and increases the permeability of the nasal airways. Pseudoephedrine is incompletely metabolized in the liver. The onset of action is evident in 30 minutes, it is eliminated via the kidneys. The excretion rate increases in urine with acidic PH.

Acetaminophen is an antipyretic pain reliever that inhibits cyclooxygenase and consequently prostaglandin synthesis. It is absorbed quickly and almost completely orally; it reaches its maximum plasma concentration in 30 minutes on average, with a range of 10 to 60 minutes after oral administration.
[/vc_column][/vc_row][vc_row inner_container=»true» bg_color=»#ffffff» style=»margin-top:0px; margin-bottom:0px;»][vc_column width=»1/2″]
---
Precautions and restrictions on use
Persistent cough can be a sign of a serious condition. If it persists for more than a week, tends to return, or if it is accompanied by fever, rash, or persistent headache, see a doctor. Do not exceed the recommended dose since, higher doses can cause nervousness, dizziness or drowsiness. It can cause excitability especially in children. Do not take Fludibron caplets, unless your doctor tells you, if you have emphysema or chronic bronchitis, glaucoma or difficulty urinating as a result of prostatic hypertrophy, heart disease, high blood pressure, thyroid disease or diabetes. It can cause drowsiness; therefore, alcohol, sedatives and tranquilizers can increase this effect when used together. Avoid alcoholic beverages while taking Fludibron caplets. Use caution when driving motor vehicles or operating machinery. Keep this and all medications out of the reach of children. As with any drug, if you are pregnant or breastfeeding, consult a health professional before using this product.
Drug and other interactions
Do not take Fludibron caplets if you are being treated with sedatives or tranquilizers, antihypertensives, or if you are currently taking any Aminomonoxidase Inhibitor (MAOI) (certain drugs for depression, psychiatric or emotional conditions or Parkinson's disease), for two weeks afterwards. having stopped taking the drug MAOI. If you are not sure that the prescribed drug contains MAOIs, consult your doctor before taking this product.
Posology
Adults and children 12 years old and over: two starting caplets and then continue with 1 caplet every 6 hours. Do not exceed 6 caplets in a 24 hour period.
Side effects
Nausea, dizziness, gastrointestinal disorders, increased blood pressure, tachycardia, nervousness, restlessness, dry mouth. They are transitory effects and disappear when stopping the medication.
[/vc_column][vc_column width=»1/2″ style=»background-color:#f4f4f4; height:100%; padding-left:10px; padding-right:10px;»]
Composition
Each caplet contains:
Dextromethorphan … 15mg

Pseudoephedrine… 30mg

Acetaminophen… 325mg
---
Administration route
Oral
---
Presentation
Box containing 10 caplets.

Box containing 50 caplets.
---
Storage Recommendations
Store below 30 °C.
---
Contraindications
Do not use Fludibron Caplets in children under 12 years of age, due to its difficult dosage. Contraindicated in patients with glaucoma or myasthenia gravis, in people allergic to the components of the product. Use with caution in hypertensive patients.
[/vc_column][/vc_row]