[vc_row inner_container=»true» bg_color=»#ffffff» style=»margin-bottom:0px; padding-bottom:0px;»][vc_column alignment=»left» width=»1/2″]
Dolotrop-K
Diclofenac potassium

Vitamins B1, B6 ,B12
[/vc_column][vc_column width=»1/2″]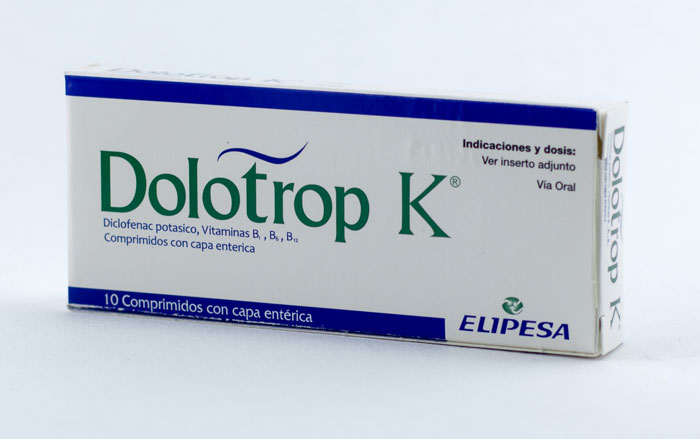 [/vc_column][/vc_row][vc_row inner_container=»true» bg_color=»#ffffff» style=»margin-top:0px; margin-bottom:0px;»][vc_column width=»1/1″]
Indications
Dolotrop k is indicated to treat: low back pain, cervical pain, brachialgia, radiculitis, peripheral neuropathies of various etiopathogenesis: facial neuralgia, trigeminal neuralgia, intercostal neuralgia, postherpetic neuralgia, alcoholic neuropathy, diabetic neuropathy, carpal duct syndrome. Painful rheumatic processes, both inflammatory and degenerative activated by inflammation, such as: osteoarthritis, spondyloarthrosis, ankylosing polyarthritis and acute gout attack. Soft tissue rheumatism and non-rheumatic painful inflammatory conditions.
Side effects
Occasionally: vomiting, diarrhea and insignificant gastrointestinal bleeding, headache, irritability, insomnia, tiredness, dizziness, skin rash and itching have been observed. In isolated cases and very infrequently it has been observed: hemorrhagic colitis, blurred vision, diplopia, ringing in the ears, urticaria, eczema, erythema, kidney failure, liver lesions, pancreatitis and hematopoietic disorders.
[/vc_column][/vc_row][vc_row inner_container=»true» bg_color=»#ffffff» style=»margin-top:0px; margin-bottom:0px;»][vc_column width=»1/2″]
---
Drug interactions
Simultaneous use of Dolotrop K with other medications such as: digoxin, lithium, diuretics, antihypertensive drugs, glucocorticoids, methotrexate, acetylsalicylic acid and L-dopa should be avoided. Restrictions for use during pregnancy and lactation: Should not be administered during pregnancy or lactation.
Cautions
There is no evidence of carcinogenic, mutagenic, teratogenic and fertility effects in humans and experimental animals.
Contraindications
Hypersensitivity to the components of the formula.

Unclear hematopoietic disorders.

Gastric and duodenal ulcer.

Children under 12 years.


Patients whose attacks of bronchial asthma, rhinitis or urticaria are preceded by acetylsalicylic acid or its derivatives.
[/vc_column][vc_column width=»1/2″ style=»background-color:#f4f4f4; height:100%; padding-left:10px; padding-right:10px;»]
Composition
Each enteric-coated tablet contains:
Diclofenac Potassium 50 mg

Vitamin B1 (Thiamine Mononitrate) 50 mg

Vitamin B6 (Pyridoxine Hydrochloride) 50 mg

Vitamin B12 (Cyanocobalamin) 1 mg
C.S. excipients
---
Administration route
Oral
---
Posology
Unless otherwise prescribed, 1 or 3 Dolotrop K tablets per day.
---
Presentation
Box containing 10 and 50 tablets.
---
Storage Recommendations
Store below 30 ° C.

Protect from light and moisture.

Keep out of reach of children.

Sale under prescription.
[/vc_column][/vc_row]