[vc_row inner_container=»true» bg_color=»#ffffff» style=»margin-bottom:0px; padding-bottom:0px;»][vc_column alignment=»left» width=»1/2″]
Cerepens
Pygeum Africanum Extract 50mg / Serenoa Repens 160mg Dry Extract
[/vc_column][vc_column width=»1/2″]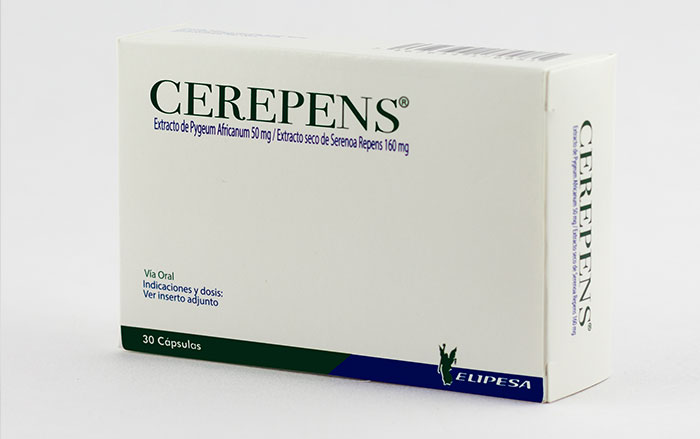 [/vc_column][/vc_row][vc_row inner_container=»true» bg_color=»#ffffff» style=»margin-top:0px; margin-bottom:0px;»][vc_column width=»1/1″]
Pharmacological Properties
Pygeum Africanum
The extract of pygeum africanum has antiproliferative effects on fibroblasts stimulated by b-FGF (basic-Fibroblast Growth Factor) in benign prostatic hyperplasia. Furthermore, the extract of pygeum africanum does not interfere with the hormonal activity of the male genital sphere.
Serenoa Repens
The purified serenoa repens extract has antiandrogenic properties that are specifically exerted at the target organ level without any other hormonal incidence or interference with the hypothalamic-pituitary axis. These antiandrogenic properties are explained by an inhibition of DHT synthesis and its binding to its cytosolic receptor. Translocation of the hormone becoming impossible in the nucleus must result in a decrease in protein synthesis. Such a decrease in protein synthesis was evidenced by a hormonal association of testosterone and prolactin. On the other hand, serenoa repens, by mediating the inhibition of phospholipase A2 activity and the release of arachidonic acid, is capable of decreasing the synthesis of prostaglandins involved in the tone and motility of the lower urinary tract walls. , as well as in the hormonal interactions that play a preponderant role in the origin of hyperplasia and prostatic inflammation. Pharmacology also highlights an important decongestant effect of Cerepens that is very evident in the vascular phases of inflammation with reduced capillary permeability.

This activity is particularly interesting in the course of evolutionary access and in the pelvic congestion factor, taking a preponderant importance in the determination of the symptoms. These antiandrogenic and decongestant effects could explain the results observed in the symptoms of benign prostatic hypertrophy.
[/vc_column][/vc_row][vc_row inner_container=»true» bg_color=»#ffffff» style=»margin-top:0px; margin-bottom:0px;»][vc_column width=»1/2″]
---
Indications
Treatment of prostatic hypertrophy in its initial phase.

Prostatic congestion.

Acute and chronic prostatitis and vesiculitis.

Pre and post-operative treatment of prostatectomy.

Prostatic urinary obstruction (decreased urinary volume and strength).


Prostatic lengthening.
Posology
2 capsules daily by mouth, one in the morning and one at night during meals. Taking Cerepens on an empty stomach can sometimes cause nausea.

Cerepens is indicated for long-term treatment due to its wide margin of safety.
Incompatibilities
It lacks them and can be associated with any other antibiotic, hormonal, anti-sclerosis medication, etc.
[/vc_column][vc_column width=»1/2″ style=»background-color:#f4f4f4; height:100%; padding-left:10px; padding-right:10px;»]
Composition
Each capsule contains:
Serenoa repens dry extract 160 mg
Pygeum africanum 50 mg
C.S.P. excipients 1 capsule
---
Administration route
Oral
---
Presentation
Box containing three blisters with 10 capsules each.
---
Storage Recommendations
Store below 30 °C.
---
Contraindications
Cerepens is contraindicated in patients with hypersensitivity to the components of the product.
[/vc_column][/vc_row]