[vc_row inner_container=»true» bg_color=»#ffffff» style=»margin-top:0px; margin-bottom:0px;»][vc_column width=»1/2″]
---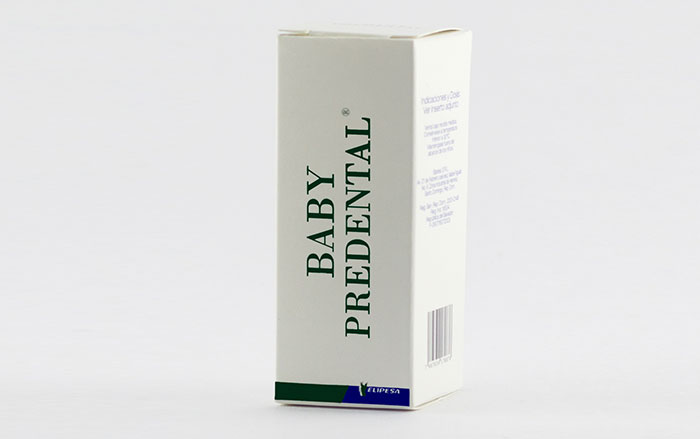 Baby Predental is a topical oral solution that combines the local anesthetic action of Lidocaine HCL with other gingivaries that have antiseptic, astringent and refreshing activity.
Indications
For immediate relief of gum discomfort in the primary stages of teething, stomatitis, gingivitis, thrush, thrush, and herpetic gingivostomatitis.
Side effects
Due to the minimal systemic absorption of the components of Baby Predental, adverse reactions are mild and temporary. Lidocaine topical-oral route can produce allergic reactions or burning sensation although, in general this is rare, and in hypersensitive patients, witch hazel can occasionally cause gastric irritation.
Drug Interactions
Drug interactions are unlikely due to the minimal absorption of topical drugs.
[/vc_column][vc_column width=»1/2″ style=»background-color:#f4f4f4; height:100%; padding-left:10px; padding-right:10px;»]
Composition
Each 100 ml contain:
Fld. Ext. Witch hazel 0.2g

Fld. Ext. Myrrh 0.6g

Sodium Borate 3.0g

Crystallized Menthol 0.04g

Lidocaine HCL 0.5g

C.P.S. excipients 100g
Administration route
Oral topic
Presentation
Box containing a 15 ml bottle of topical oral solution, with an applicator brush.
Storage Recommendation
Store at a temperature below 30ºC.
Contraindications
Baby Predental is contraindicated in case of hypersensitivity to Lidocaine or other local anesthetics or to any of the components of the formula.
[/vc_column][/vc_row][vc_row inner_container=»true» bg_color=»#ffffff» style=»margin-top:0px; margin-bottom:0px;»][vc_column width=»1/1″]
Cautions
Do not exceed the recommended dose.
Wash the applicator brush after each use and store in a clean place to avoid contamination.
Posology
Apply Baby Predental by brushing the oral cavity, on the affected part 4-5 times a day or as prescribed, in children from 4 months of age.
[/vc_column][/vc_row]