[vc_row inner_container=»true» bg_color=»#ffffff» style=»margin-bottom:0px; padding-bottom:0px;»][vc_column alignment=»left» width=»1/2″]
Acetan
Acetan contains piracetam, a brain oxygenating nootropic agent. Piracetam is a psychotropic drug that directly improves the superior telencephalic functions of the brain.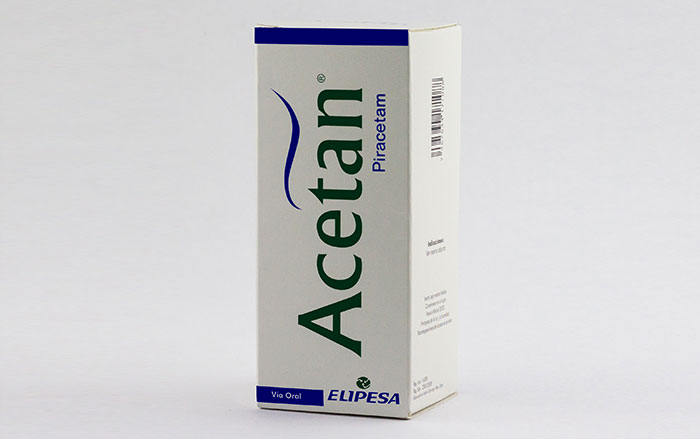 [/vc_column][vc_column width=»1/2″]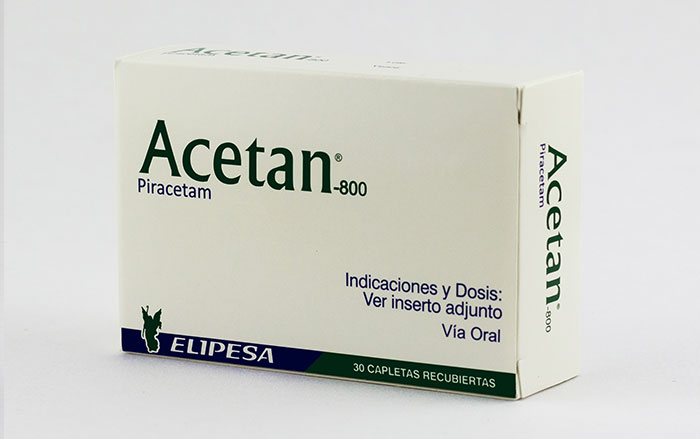 [/vc_column][/vc_row][vc_row inner_container=»true» bg_color=»#ffffff» style=»margin-top:0px; margin-bottom:0px;»][vc_column width=»1/1″]
Clinical Pharmacology
The superior telencephalic functions of the brain are those that have been implicated in knowledge processes such as those that play a role in learning, memory and the level of consciousness, both in normal and in deficit conditions, without develop a sedative or psychostimulatory activity. Piracetam acts in the central nervous system through different routes: modulating brain neurotransmission, improving metabolic conditions for neuronal plasticity and improving microcirculation due to its hemorrheological properties, without causing vasodilation. Chronic or acute administration of piracetam to patients with impaired brain function induces significant modifications of the electroencephalogram, indicating increased vigilance and cognitive function. Piracetam protects and restores cognitive abilities after different brain attacks such as hypoxia, poisoning and electroshock therapy. In the case of dementia due to multiple infarcts, or in patients presenting with acute cerebral ischemia, piracetam improves the regional consumption of oxygen and glucose.
[/vc_column][/vc_row][vc_row inner_container=»true» bg_color=»#ffffff» style=»margin-top:0px; margin-bottom:0px;»][vc_column width=»1/2″]
---
Indications
Acetan is indicated for Disorders of brain activity, in older people who present symptoms such as: memory loss, dizziness, lack of vigilance and concentration, instability of character, deterioration of social behavior and negligence in body care. These symptoms may be early signs of pathological aging such as Alzheimer's disease or senile dementia of the Alzheimer's type or dementia caused by multiple strokes.

Acetan may be indicated to decrease cortical myoclonus in some patients; as well as in the treatment of sickle cell anemia and chronic alcoholism (for 5 days), to improve coma and in treatment of cognitive impairment and / or dizziness associated with head trauma. Acetan is used in children to treat some behavioral disturbances and learning difficulties, increasing the capacity for socialization and learning to improve school performance; also for the treatment of learning disorders of written language, and in disorders for reading comprehension that are not justified by intellectual retardation, inadequate education, or the family environment.
Drug interactions
Confusion, irritability and sleep disorders have been described with the concomitant use of Piracetam and extracts of thyroid hormones (T3 and T4).
[/vc_column][vc_column width=»1/2″ style=»background-color:#f4f4f4; height:100%; padding-left:10px; padding-right:10px;»]
Composition
Acetan Syrup
Piracetam 800mg
C.S.P. excipients 5ml
Acetan Caplets
Piracetam 800mg
C.S.P. excipients 1 coated caplet
---
Administration route
Oral
---
Presentation
Box containing 30 caplets coated with 800mg.
Bottle with 120 ml of syrup.
---
Storage Recommendations
Store below 30 °C.
---
Contraindications
Severe kidney failure (renal clearance or creatinine less than 20 ml / minute).


Hypersensitivity to piracetam or to any of the excipients used.
[/vc_column][/vc_row][vc_row inner_container=»true» bg_color=»#ffffff» style=»margin-top:0px; margin-bottom:0px;»][vc_column width=»1/1″]
Posology and method of administration
Adults: the normal dose is 1 caplet of 800 mg or 5ml of syrup 3 times a day (2.4 g of piracetam). The maximum dose is 2 caplets of 800 mg or 10 ml of syrup 3 times a day (corresponding to 4.8 g of piracetam per day).

Children: the dose varies according to the weight of the child. The recommended is 50 mg / kg / day divided into 3 doses a day or as the doctor indicates. In children from 8 to 13 years old with learning difficulties, the dose will be 2.4 g per day, divided into 2 doses. In children from 8 to 13 years old with learning difficulties: daily dose of 3.3 g twice a day, before breakfast and dinner. Treatment may continue throughout the school year.

In the psycho-organic syndrome of pre-senescence and senescence, Acetan is chronically indicated with a dosage of 1.2 to 2.4 g per day depending on the intensity of the symptoms. An attack dose going up to 4.8 g per day may be necessary during the first weeks of treatment. In the treatment of cortical myoclonus, the initial dosage is 2.4 g of piracetam every 24 hours for 3 days. If the response is null or weak on the third day, the administration of 2.4 g of Acetan will be continued until the seventh day.

Once treatment with Acetan has been started, it should be continued for as long as the original brain pathology persists. In alcoholism, the attack dose may reach up to 12 g during the detoxification cure; subsequently the maintenance dose will be 2.4 g / day orally.
Side effects
Nervousness, agitation, irritability, restlessness and sleep disorders. Gastrointestinal disorders such as nausea, vomiting, diarrhea and gastralgia have also been reported, with an incidence of 2% or less. Similarly, dizziness, headaches, tremors and sexual stimulation have occasionally been reported.
Cautions
Since piracetam is almost exclusively eliminated by the kidneys, caution should be exercised in the treatment of patients suffering from kidney failure, in which it is advisable to control it.
Pregnancy and lactation
Acetan should not be administered during pregnancy and lactation, except in exceptional situations.
Warnings
Delicate medicine. Sale under prescription.

Keep out of reach of children.
[/vc_column][/vc_row]